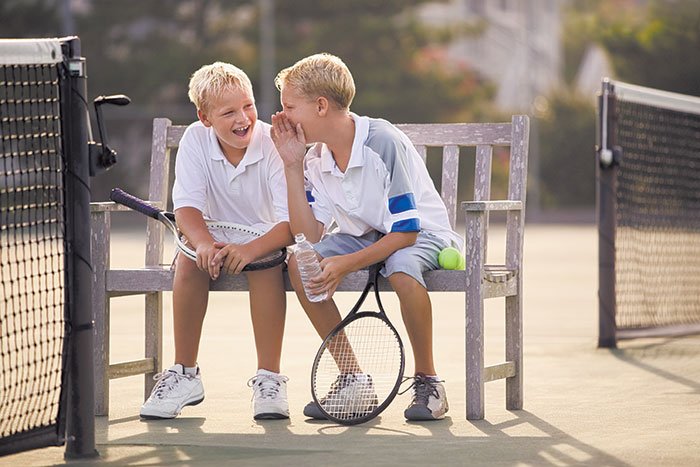 Summer Tennis Camp – 2018 Fact Sheet
Dates: Weekly Sessions starting June 11 thru July 29
Session 1 – June 11th – 15th
Session 2 – June 18th – 22nd
Session 3 – June 25th – 29th
Times: Full Week, $175+ tax
One day (space available), $40+ tax
Staff: Dave Brown is the Camp Director. He is a USPTA Master Professional with 25 years of experience playing, coaching, and running tennis camps.
Program: The tennis program teaches campers from age 6 to 12 years old. Our goal is to teach kids to serve, rally and score. We employ the use of smaller racquets, slower balls and shorter courts making it easier to learn. Campers are grouped by age and ability.
What to Bring: Hat, sunscreen, bathing suit, towel, tennis racquet, tennis shoes, wide rimmed water bottle, and flip flops. A snack and a drink will be provided.
Facilities: We have the very best in the area: 10 championship tennis courts, state of the art ball machine and two swimming pools.
Registration: Payment and registration is due one week before the start of camp. Pre-registration is required. Charge your club account or Visa and MasterCard are acceptable. Please make checks payable to: Plantation Bay Tennis, Fitness and Spa.
Refunds: A $50 processing fee will be charged for withdrawals less than one week prior to camp session. No refunds will be issued after camp begins.
Rain: It's rare, but possible. We usually know at least one hour before the start of tennis (by 8:30 am) whether tennis is cancelled. Call 386-236-4291 for weather updates. If necessary, a make up will be provided.
Contact: Dave Brown, Plantation Bay Tennis, Fitness & Spa
200 Plantation Bay Drive
Ormond Beach, Florida 32174
386.236.4292
Email DBrown@ICIHomes.com