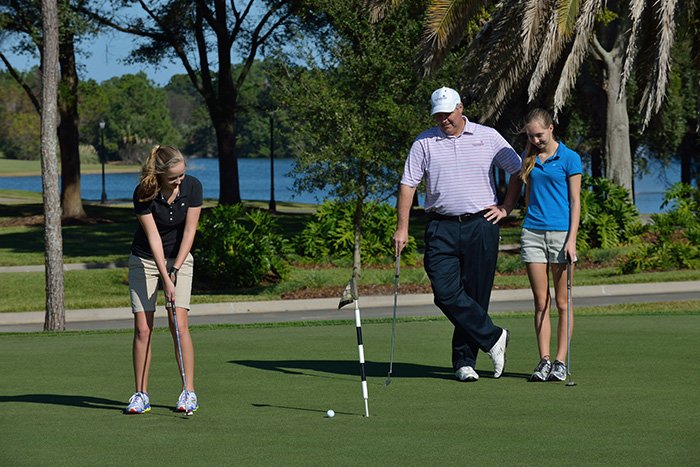 Summer Golf Camp – 2021 Fact Sheet
Dates: Weekly sessions starting June 12th thru August 10th, 2019
Session 1 – June 2nd – June 5th | 8:30am – 11am
Session 2 – July 7th – July 10th | 8:30am – 11am
Session 3 – August 4th – August 7th | 8:30am – 11am
Cost: $195 per junior
Staff: Ulrika Smith and James Delnick.
Program: The golf program teaches campers from age 7-16 years old. Our goal is to teach kids basic skills in the following areas: grip, stance, chipping, pitching, bunker play, putting, full swing and rules so they can enjoy golf to the fullest.
What to Bring: Hat, sunscreen, golf shoes or sturdy sneakers, water bottle, golf clubs (camp will provide golf clubs if necessary).
Facilities: We have the very best in the area; gated community, 45 holes of championship golf with driving range.
Registration: Payment and registration is due one week before the start of camp. Pre-registration is required. You can choose to charge your club account, pay with VISA or MasterCard or check. Please make checks payable to: Plantation Bay Golf Club.
Refunds: A $50 processing fee will be charged for withdrawals less than one week prior to camp session. No refunds will be issued after camp begins.
Rain: It's rare, but possible. We usually know one hour before (by 8:00) whether golf is cancelled. Call the pro shop for questions 386.437.4844 x1
If necessary, a make up will be provided.
Contact:
Ulrika Smith: [email protected] | 386.481.8418
James Delnick: [email protected] | 248.818.0636
Pro Shop: 386.437.4776 x10