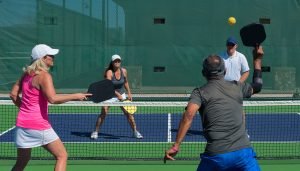 Discover the Sport that's Sweeping the Nation! Originating in 1965 on the picturesque Bainbridge Island, Washington, this dynamic sport is the fusion of Tennis, Ping-Pong, and Badminton. Pickleball is a sport that offers a perfect blend of physical activity, mental stimulation, and social engagement. It is suitable for all ages and skill levels, however, do not be fooled, it does require some balance, mobility, and agility.  It is a highly social activity, a wonderful way to meet new people, make friends and build a sense of community.
As the fastest-growing sport in the US, Pickleball is making its mark with courts sprouting up everywhere. And guess what? Plantation Bay boasts 10 dedicated courts, making it the ultimate hub to embark on your Pickleball journey!
Dive into the Action at Plantation Bay!
Eager to conquer the court and challenge yourself? With our tailored lessons, friendly matches, and vibrant community, Plantation Bay is the ultimate setting to master the art of Pickleball.
Learn to Play: Monthly sessions designed for newcomers, complete with expert coaching to get you started on the right foot.
Open Play: Daily access for everyone! Bring your energy and enthusiasm and engage in friendly matches.
Challenge Court: Show off your skills! Seasoned players can put their talents to the test on the challenge court.
Beginner Open Play: A safe space for novices to enjoy the game at their own pace.
Ladies Night: Empowerment and fun combine in this special event dedicated to our fierce female players.
Organized Round Robins: Saturdays are all about meeting new opponents and forming connections through thrilling round-robin matches.
Social and Holiday Events: Beyond the court, Plantation Bay hosts a variety of social gatherings and holiday-themed tournaments to keep the camaraderie alive.