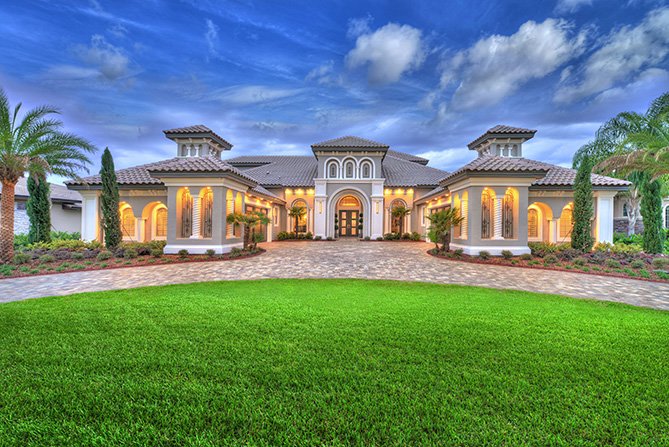 New Homes in Ormond Beach, FL at Plantation Bay
Whether you're a family who needs to grow, considering retirement, empty nesters who want to live where you play, or you want a vacation home to call your own, Plantation Bay Golf and Country Club offers a wide array of new home designs in Ormond Beach, FL. Plantation Bay offers a wide variety of homes from low maintenance townhomes and golf villas to single-family homes and custom luxury estate homes. With all our choices, there is something perfectly suited to your personal style at exactly the investment range you want.
Homes that Meet Your Exact Needs
ICI Homes is renowned for their quality, craftsmanship and value. With a nearly 40 year track record of success, ICI Homes is a frequent recipient of top national, regional and local awards for innovative design and quality construction and is consistently ranked in Builder Magazine's Top 100 Builders. Privately owned and headquartered in Daytona Beach, Florida, ICI Homes develops, builds and operates several communities throughout Florida.
Because ICI Homes has built thousands of homes, from affordable villas to breathtaking mansions, ICI Homes benefits from a volume purchasing advantage that ensures your home is built with the best quality materials at the greatest value for your money. Building a brand-new, one-of-a-kind home easy and surprisingly affordable.
Townhomes, Single Family & Estate Homes for Sale, Ormond Beach, FL
Homes & Townhomes from the $400's
Homes range from 1,500 to over 4,000+ sqft.
Mediterranean and traditional styles
Award-winning new home designs
Completely customize your home
Golf, water & conservation views
Build Any of these Custom Homes to Suit at Plantation Bay in Ormond Beach
Kargar Construction – Ormond Beach Home Builder
Kargar Construction offers yet another dimension of home design in Plantation Bay with prices starting from the $400s.
Kargar Construction is an award winning company that raises the bar in quality construction and is dedicated to producing high quality, timeless, custom home designs for refined home purchasers.
Launched in 1997, Kargar Construction has built more than 100 luxury homes in the region, including at Plantation Bay and Breakaway Trails in Ormond Beach, Hammock Dunes in Palm Coast, Spruce Creek Fly-in community south of Daytona Beach and LPGA community in Daytona Beach.
"As our company continues to provide state of the art, luxury homes, we want to make sure that we minimize our impact on the Earth's climate. We take steps to implement innovative and responsible practices to reduce our carbon footprint and create a healthy living environment for our future home owners, all while ensuring the top quality craftsmanship for which we are so well known."