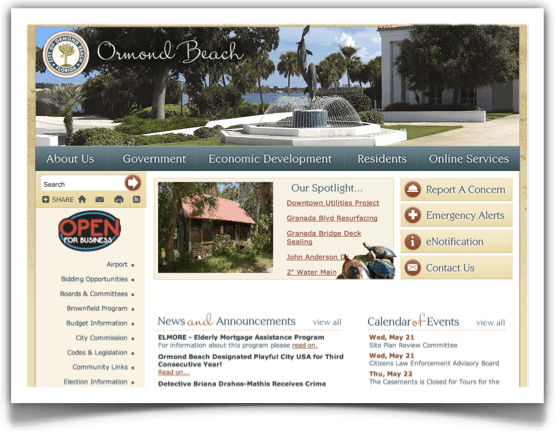 One of the most undervalued resources available to Plantation Bay residents is the city of Ormond Beach's website, which is absolutely loaded with information.
When I speak with people about how to choose the best area in which to move, I always tell them to visit the website of the local government to see what they can learn and ask themselves a few questions. By the looks of things, are they up-to-date technologically? Does the local government seem prepared to manage the growth their area may be experiencing?
As it relates the the City of Ormond Beach and their website, the answer to these questions is yes.
While many residents visit the site just to get the local news or check the community calendar, looking a bit deeper, you will uncover a tremendous number of resources.
One obvious convenience is that the city website gives residents the option to pay their utility bills online. It also contains a plethora of information regarding the city budget, codes and legislation, employment information, and transparency reports. There is even a video gallery where you can watch recent City Commission meetings if you are so inclined.
In addition to all of those resources, residents can find even more great information by clicking on the "Residents" tab. Here are some of the fantastic resources located there:
Calendar of Events
One of the most popular areas of the city website is the Calendar of Events section. This is your expert guide to just about every official event that is going to happen around the city. Residents can pick and choose which calendars to isolate based on topics like Beachfront Park, Community Calendar, Elections, Public Works, and Sports Complex and Athletics.
Election Information
Since this is a city government website, the Ormond Beach website also contains all of the information you might need concerning upcoming elections. Here you will find information regarding each of the voting precincts, as well as information on registering to vote and requesting an absentee ballot.
Leisure Services
The Leisure Services Department is tasked with providing residents a fun place to live, which Ormond Beach certainly is. That means they are responsible for planning local activities, classes, community events, day camps, summer programs, sports clinics, and quite a few other fun activities. Their section of the city website contains links to all of the activities and events they are currently working on.
Parks and Recreation Facility Locator
If you are new to the area, the Parks and Recreation Facility Locator is an excellent tool to help you get better acquainted with the area. It allows you to search through all of the city facilities and public parks by topic or keyword. This is a great tool if you are looking for a specific type of facility like a basketball court, picnic area, or walking path.
Performing Arts Center
The Performing Arts Center page of the city website contains information about all of the shows that are scheduled to be held at the city's 23,000 square foot theatre. There is a calendar of upcoming events, a seating chart of the facility, and a link to purchase tickets through the box office.
Resource Directory
As if the city website doesn't contain enough information on its own, there is also a Resource Directory that contains information about 81 more clubs, organizations, and government departments. If you need to contact just about any local organization, odds are pretty good that you can find their information here.
As you can see, the city of Ormond Beach's website is a great way to get acquainted with our city and surrounding area. No matter what information you are looking for about our community, odds are pretty good that the city website has what you are looking for!