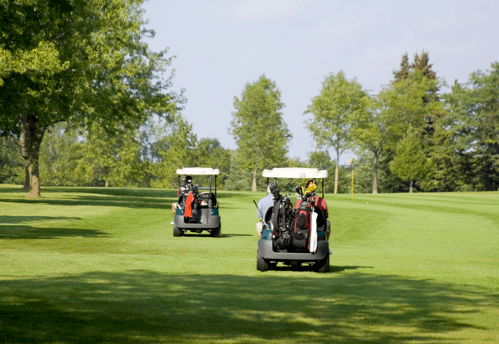 One of the best things about living in a country club community like Plantation Bay is that you can leave your car at home and use your golf cart to get wherever it is you want to go within the community.
In fact, about 50% of all Plantation Bay residents have their own cart.
In this guide we'll give you the answers to some of the frequently asked golf cart questions we get from new Plantation Bay residents.
Where do Plantation Bay residents buy their golf carts?
There are two places right here in Ormond that specialize in new and used golf cart sales.
Action Golf Cars is located on US 1 here in Ormond sells golf carts from some well-known brands like Star Cars, Club Cars, E-Z-Go and Yamaha.
In addition to selling carts they also provide service, parts, accessories, and can even customize your cart to your specific needs.
Call them at 386-672-9738.
Another company Plantation Bay residents have used is Tee Time Golfs Cars which is also located on US 1 in Ormond.
Tee Time sells popular makes like Columbia, Club Car and EZ-GO. They also sell custom carts from these and other brands.
Tee Time not only offers service on brands they sell, but also on lesser known brands and out-of-production brands.
You can check out their site at teetimegolfcars.com or call them at 386-615-1980.
If you don't mind a little more of a drive, Gulf Atlantic Vehicles in New Smyrna is an EZ-GO and Club Car dealer that has been selling carts in the area for more than 30 years.
They sell and service both new and used carts, and they have photos of some really cool custom golf carts they've built on their website.
Their site is at gulfatlanticvehicles.com.
Can I use my own cart on the golf course?
Absolutely! Just think of all the cart rental fees you'll save.
Residents with a family membership can actually save more than $3,000 a year by not having to pay the yearly cart rental fee.
You do however have to pay a yearly "trail fee" which helps cover the maintenance and upkeep of the golf cart trails.
What about insurance?
Golf carts need insurance just like your automobile does.
But thankfully its a whole lot cheaper.
Golf cart insurance is available through most insurance companies so check with your home/auto insurer, and most residents peg this cost at about $200 per year.
Any golf cart safety tips for me?
Because they are so much fun to drive, people sometimes forget that operating a golf cart is serious business.
You'd be surprised to learn just how many golf cart injuries and fatalities occur in Florida each year.
So here are 10 basic tips to help keep you and your passengers safe.
1. Never drive recklessly or joy ride. Drive courteously. Obey all vehicle traffic laws and rules of the road.
2. Never drive intoxicated or under the influence of any drug or narcotic.
3. Avoid distractions while operating the golf cart just as you would in an automobile.
4. The driver and all occupants should utilize available seatbelts anytime the vehicle is in use.
5. Keep all body parts inside cart while vehicle is in motion, except when signaling a turn.
6. Always use hand signals to indicate your intent to turn.
7. Avoid excessive speed, sudden starts, stops and fast turns.
8. Do not leave your keys in the golf cart while unattended and make sure the parking brake is set.
9. Always yield to pedestrians and be cognizant of motor vehicles.
10. Use extreme caution in inclement weather. Although a golf cart may shield you from the rain, it may not protect you from a lightning strike.
For more safety tips a very informative site to visit is golfcartsafety.com
Using your own golf cart to get around is just one of the many things that make living in Plantation Bay so great.
Armed with the information above, you'll be ready to fit right in with your new friends and neighbors at Plantation Bay.