Is it time to downsize or begin a new season of life? Perhaps you're a single person or a couple who doesn't love home maintenance. We at ICI Homes have the perfect housing solution for you — our luxury townhomes at Plantation Bay Golf & Country Club in Ormond Beach.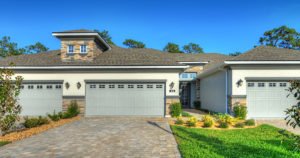 Townhomes in this master-planned community in east central Florida make it easy to lock up and go, enjoy seasonal residency, or wave gaily from your covered lanai as someone else cuts the grass. You'll deal with no yard work and exterior maintenance obligations. Plus, you'll also have a spacious, gracious new custom Florida home that's just right for you.
ICI Homes offers two townhome floor plans in Plantation Bay — the Arbor II and the Blossom II. Both are perennially popular sellers. So is the community as a whole. Its collection of neighborhoods, resident amenities and convenient location near Interstate 95 in the greater Daytona Beach area make it an irresistible choice for your new custom Florida home.
Come see why we're spotlighting the luxury townhomes at Plantation Bay.
Townhomes are everything you need and more
The Arbor II and Blossom II floor plans are designed to give new residents exactly what they want in a fuss-free home.
When you live in a Plantation Bay luxury townhome, you enjoy open living spaces, a spacious master suite, a screened-in covered lanai, private bedrooms and bathrooms, and versatile flex spaces just like in a standalone home.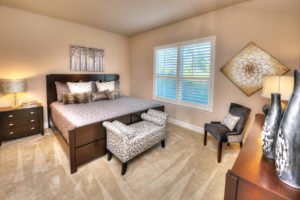 A luxury townhome provides all of that in a more manageable package.
The Arbor II is a 1,562-square-foot, one-level plan with two bedrooms and bathrooms and a two-car garage. Add a third bedroom, home office or workout area in the flex space.
The Blossom II, however, is larger at 2,078 square feet. It features three bedrooms and bathrooms, and a two-car garage. One bedroom and bathroom, plus a roomy flex space are located upstairs.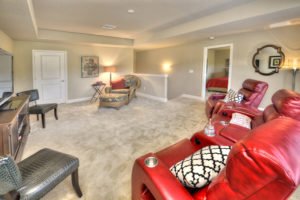 See for yourself with our nifty online tools
You don't have to leave the comfort of your current home to find your next home!
On ICIHomes.com, both floor plans come equipped with photo galleries, a 3D interactive video tour of their models, and interactive architectural floor plans.
The 3D interactive video allows you to tour the Arbor II and Blossom II as if you were visiting their models in person. You also can view them in floor-plan mode, as if you'd lifted the roof and were staring straight down at each room.
Ready for the next step? We can connect you with our savvy online sales team who'll help with more information. Then, you can also schedule a live virtual appointment with a sales associate or a private one-on-one tour of Plantation Bay's luxury townhomes.
Ready for your Plantation Bay lifestyle? Talk to us here.