If you're seeking a new Central Florida home, spending time at the beach may be high on your recreational priority list. Residents of Plantation Bay Golf and Country Club in Ormond Beach can check that box with a giant permanent marker. Not only do they live in a 3,600-acre gated community that features two golf courses, peaceful landscaping, with large iconic trees and shimmering lakes, they're only FOUR miles from the beautiful Atlantic beach. Ready to call the moving van right now, aren't you?
Although the beach is only one of many excellent reasons to consider Plantation Bay as a candidate for your new Florida home, it's a deal-clincher or breaker for many homeowners. Read on for more about Plantation Bay's beach proximity.
How to Get to The Beach
It's over the river and through the woods — four miles that require 10 minutes, maybe 15 when you pause for a turtle crossing a scenic state highway. And no, you're not going to Grandma's house unless your grandmother really lives at the beach. But, you must mind the 25 miles-per-hour speed limit. These are narrow, two-lane roads, and you'll want to enjoy their gorgeous scenery.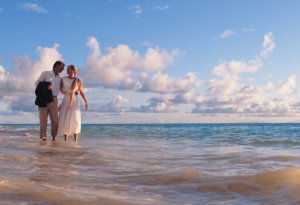 Here are the directions: turn right out Plantation Bay's north entrance on Old Dixie Highway. Head east. You'll cross Interstate 95, then pass a shopping center on your right. Turn left on Walter Boardman Lane.
This is the over-the-river-and-through-the-woods part. You'll pass through undisturbed coastal hammocks and marshes, plus cross a couple of bridges, including one over the Atlantic Intracoastal Waterway.  Eventually, you'll reach a stop sign. Turn right on High Bridge Road. Follow High Bridge until it dead-ends at A1A. You'll see the beach and Atlantic Ocean right across the street.
What's at The Beach
No crowds, congestion, parking tolls or rows of tall, sun-blocking buildings! Simply wide sandy beaches, easy roadside or across-the-road parking and North Peninsula State Park just north, where you can find necessary services such as restrooms, ice and dune crossovers.  Across AIA, North Peninsula State Park also contains the Coastal Strand Trail for hikers and bird watchers. It leads to Smith's Landing, where anglers can cast a line. Bring your chairs, beach umbrellas, sunscreen and coolers for snacks and food. You're likely to wave to plenty of other beach-goers, with plenty of space to spread out. But, if you need a little socialization, head south a few miles to Ormond-by-the Sea, or north to Flagler Beach.
The Loop
The Walter Boardman Lane-High Bridge Road section of your trip from Planation Bay to the beach, is part of the Ormond Scenic Loop & Trail — a road network of more than 30 miles that winds through Old Florida landscapes, state, country and city parks, and past historic sites, dunes, waterways and marshes. Known locally as "the Loop," it's an official Florida Scenic Highway and National Scenic Byway. Don't forget to drive its entirety, slowly, regardless of whether you're beach-bound.
Ready to make Plantation Bay your beach-going headquarters? Contact ICI Homes. Click to start.