Searching for that fun activity to get you outside and into nature? How about birding? Residents of Plantation Bay Golf & Country Club have the perfect setting to identify the many bird species that also call Plantation Bay home. Like other wonderful things to do here, birding, or birdwatching,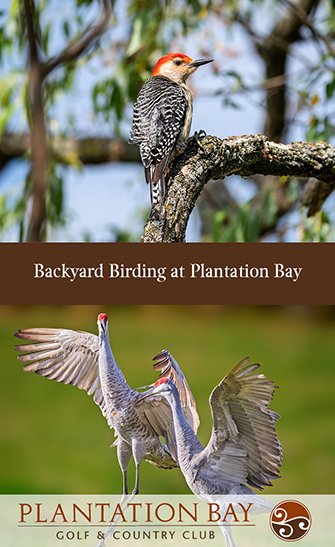 is easy to share with friends and neighbors. It's also exactly what it appears to be — simply identifying and enjoying the birds around you. All that's required is curiosity and being outdoors in Plantation Bay's natural beauty.
When you consider all that Plantation Bay offers, you might wonder why we're spotlighting birding. Plantation Bay is one of ICI Homes' signature properties and the top master-planned community in east central Florida. Sited near its hometown of Ormond Beach, Plantation Bay is minutes from Interstate 95, Florida's north-south traffic artery, and gorgeous Atlantic beaches.
Its amenities include 45 holes of golf, two clubhouses, a wellness center that features resort-style swimming pools, a fitness center, full-service spa and outdoor cabana, plus tennis, basketball and pickleball courts.
But, when you're ready to power down and enjoy a simple pleasure, birding is great choice. Read on for more.
Birds love it here too
Plantation Bay's setting makes birding easy. The community totals 3,600 acres, but large swaths of it will remain pristine and undeveloped. This means conservation areas abut many current and future homes, providing not only peaceful buffers to Plantation Bay neighborhoods, but also wildlife habitats.
Plantation Bay homes and amenities such as the golf courses are nestled in the area's coastal forests, with plentiful ponds and occasional wetlands serving as home to birds and other critters.
Community green spaces and two neighborhood parks — Prestwick Park and Westlake Park — provide even more common areas to explore for birding.
How to get started
Step outside — literally. Or, hang out on your lanai, back porch or pool deck, and look for birds in nearby trees, ponds or soaring above you. Listen for songbirds, quacking waterfowl or busy woodpeckers. If you live near a pond, lake or other Plantation Bay waterway, sometimes a splash means a hawk or osprey is fishing for dinner.
Most of us can identify a robin, blue jay or eagle, but do you know the difference between a heron and an egret? Ah, thought so. Here's where a smart phone can help: snap a photo of that waterbird you know is probably a heron or egret and google it. Another option is ebird.org.
Want to take birding to the next level? Buy a pair of binoculars. Seek out the local Audubon Society group and meet other birdwatchers. You also can participate in local, state and national events like the Great Backyard Bird Count, a four-day program that invites everyone in North America to count the birds around them, then report their findings to help scientists monitor bird populations. The most recent Great Backyard Bird Count was the organization's 25th.
Ready for your Plantation Bay lifestyle? Talk to us here.