Plantation Bay Golf & Country Club residents know there's never a shortage of fun neighborhood activities. The community's size, jaw-dropping amenities and proximity to Atlantic beaches make it a must-see for buyers in east central Florida, plus, it's one of ICI Homes' signature properties.
That means three golf courses, two clubhouses with lively social and dining atmospheres,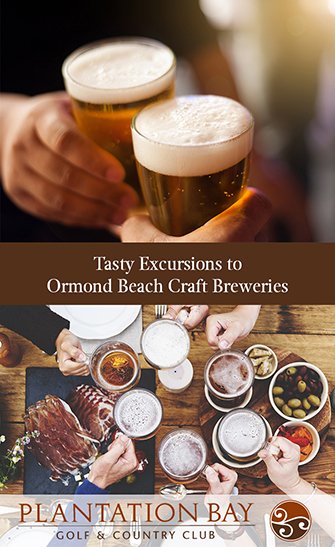 pocket parks, playgrounds, a fitness center, full-service spa, two resort-style swimming pools, and pickleball, tennis and basketball courts. Add the miles of walkable sidewalks and trails, and what are you waiting for?
But, top-flight amenities isn't all this master-planned community offers.
When it's time to go exploring, Plantation Bay's hometown of Ormond Beach also serves up plenty of options. Shopping, dining and entertainment are easy to find in this laid-back beach town where history, natural beauty and the arts abound.
The craft brewery trend even has a presence here, with great tastes only a few minutes and miles from Plantation Bay.
Read on for where to sample Ormond Beach's craft breweries.
Sip locally
If you're new to east central Florida, it's helpful to know Ormond Beach is the northernmost municipality in the greater Daytona Beach area — a thriving region bordered by the Atlantic and convenient Interstates 95 and 4.
Brew pubs and tap rooms abound, and Ormond Beach boasts its share. We'll get you started with three easy destinations for Plantation Bay residents — Beachside Brew Pub, Ormond Brewing Company and Ormond Garage Brewing.
Beachside Brew Pub is located in Ormond by the Sea, just north of Ormond Beach. As you might guess, this means sampling homemade flights and food-truck creations just steps from sand and salt water. Sign up for Beachside Brew Pub's newsletter or a tour of their brewing facilities.
Ormond Brewing Company is one of the early stalwarts of Daytona Beach's craft brewery scene. It's tucked on Division Street, off U.S. Highway 1 in Ormond Beach's commercial and retail corridor. You'll find nearly 20 brews on tap, a beer garden, live entertainment on many nights and munchies from top area food trucks.
Ormond Garage Brewing is one of the newer craft breweries, and it takes full advantage of Ormond Beach's heritage as the "Birthplace of Speed." Housed in a historic garage on West Granada Boulevard in downtown Ormond Beach, Ormond Garage Brewing celebrates the late 19th- and early 20th-century land speed records that were set on nearby beaches.
Expand your palate
Plantation Bay residents who visit the three breweries above may want to explore others. The area teems with craft breweries, many of which specialize in techniques and tastes, and the Daytona Beach Area Convention & Visitors Bureau has you covered.
Find the Daytona Beach Ale Trail Guide at the CVB's website. It gives you the 411 on all the region's breweries, and what to expect when you arrive.
Hint: don't forget your designated driver!
Ready for your Plantation Bay lifestyle? Talk to us here.