A Very Exciting Time at Plantation Bay!
We are seeing progress daily!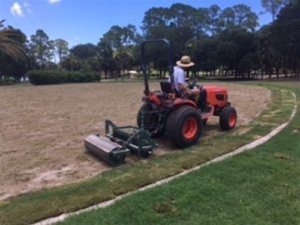 Golf Course Renovation Update        
We are happy to report that all 18 greens on Club de Bonmont, the practice putting green and chipping green have been sprigged with Tiff Eagle grass.  I am also very happy to report that the fairways and tees will start being sprigged with Celebration grass this weekend and will continue all through the week until complete. 
Once the Celebration grass is established, cart traffic will be permitted on the fairways.
As for the driving range, you have probably noticed the driving range tee has been raised and redesigned.  When complete, the view hitting down to the target greens and overlooking holes 16, 17 and 18 will be truly remarkable.  In addition to the tee area improvement,  the  practice chipping area has also been redesigned and  will offer different types of lies (side hill, up hill, etc.) as well as rough and fairway (tight) lies.
The schedule to re-open the golf course is still for mid-September.  If we need to give the grass an extra week or two to mature we will, but once it's ready we can't wait to have our members out playing!
I hope you are enjoying your summer, we will continue to update you on the progress in the next several weeks.
Sincerely,
Gregory P. Brousse
Managing Director