Residents of Plantation Bay Golf & Country Club in Ormond Beach have not one, but three golf courses to play. The golfing life is a major reason many people live here, and teeing it up is never boring when you have 45 holes in your backyard.
The golfing also hardly stops, to the delight of current and prospective residents.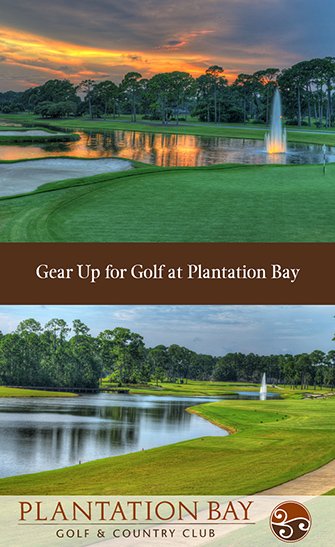 Plantation Bay's golfing scene thrives all year, with junior clinics in summer, adult clinics in autumn, and local and regional tournaments dotting the calendar.
But, the busiest golfing seasons at Plantation Bay come in autumn, winter and early spring. And if you're reading this amid cooling weather and end-of-year holiday preparations, read on to discover how a new custom Florida home here can be your perfect seasonal transition to a new golfing life.
It's time to gear up for golf at Plantation Bay.
Why golfing season rocks at Plantation Bay
Located in Ormond Beach, Plantation Bay is east central Florida's premier master-planned community and one of ICI Homes' signature properties. Its resident amenities are legendary (we'll detail them a little later), but for now, know that golf is only one activity on Plantation Bay's amenity menu.
As for why cooler weather feeds the busiest golfing seasons, it's simple. Cooler weather means more comfortable conditions on the courses. Plantation Bay is located only minutes from gorgeous Atlantic beaches, in a semi-tropical climate, and warm, humid summers are de rigor.
That doesn't stop Plantation Bay golfers! The gorgeous landscaping that surrounds the Club de Bonmont, Westlake and Prestwick courses often is full bloom in warmer weather, and twilight rounds allow golfers to take advantage of summer's long, light-filled days.
Summer also is an important season for course maintenance, both for attending to the turf, fairways and greens, and sprucing up infrastructure and landscaping.
Once autumn arrives, adult clinics with Plantation Bay's club pro are on deck. League play revs up in a major way. And those classic staples of club golf, the member-member and member-guest tournaments, swing back into action, as do the annual club championships, an individual stroke play event for several men's and women's golfing categories.
Couples mixers are an increasingly popular offering for Plantation Bay golfers, and these are on the autumn calendar, along with several holiday-themed events and two tournaments that Plantation Bay is hosting for outside organizations.
What to do when not golfing
Golf may be the biggest draw thanks to those three courses, but there's plenty to do when you're not playing golf.
Two clubhouses — and a new one under construction — host active social and dining scenes. A Wellness Center anchors a fitness center, full-service spa, two resort-style swimming pools with sundeck and a cabana, plus tennis courts, pickleball courts, basketball courts, and miles of sidewalks and walking paths.
Reminder: residents need a membership to enjoy Plantation Bay's amenities. Explore those options here.
Ready for your Plantation Bay lifestyle? Talk to ICI Homes here.