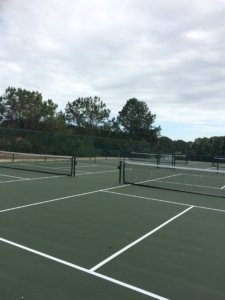 The Pickleball courts at Plantation Bay have a soft opening this week on Friday, November 27! The courts will be available for play 8:00am-4:00pm. Reservations are for 1 hour for singles and 1.5 hours for doubles. Reservations can be made 48 hours in advance. Open to full and sports members, please register with the Fitness desk prior to play. Demo paddles are available for play, paddles and supplies are also available for purchase in the Fitness Pro-Shop.
The official grand opening will be held Monday, November 30 from 2-4pm! All club members are invited to join in on the fun! Festivities will include Demo Matches with Open Play to follow for you to try the game!
Sign up in advance for complimentary lessons to introduce you to pickleball! Understanding the game rules, scoring, serving and plenty of time to play! Plus, the opportunity to meet fellow Picklers!
Light refreshments will be available… See you on the courts!
Call the Fitness Center for further information, 386-236-4291