It is one of the most popular recreational sports going, and accessible for all ages, abilities and skill levels. Are we talking checkers? No! How about pickleball — that condensed version of several sports played on a court with a net?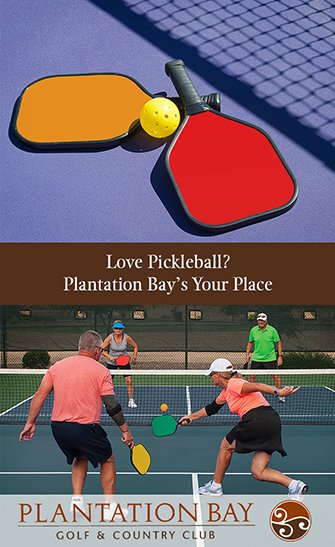 It's a mashup of tennis, badminton and table tennis, and although it's been around since 1965, pickleball's appeal has soared in recent years.
We have the perfect place to play it, especially if you're searching for a new custom Florida home. Plantation Bay Golf & Country Club, located near Ormond Beach in east central Florida, is one of ICI Homes' signature properties. It also boasts a popular pickleball following, among other amazing amenities, and we'd like to introduce you to the sport, or entice you with the Plantation Bay pickleball scene if you're already a player.
Here's more on why Plantation Bay's your place for pickleball.
What pickleball is
Not a fad.
It was founded almost six decades ago by several Bainbridge Island, Washington families seeking to improvise some lawn-game fun with incomplete badminton equipment. They cobbled together a badminton net, whiffle balls, and pieces of plywood for paddles one summer afternoon, ultimately creating one of today's most popular recreational sports — completely on the fly!
Nowadays, millions play pickleball thanks to its manageable dimensions, similarity to other court sports, and the fun competitiveness it fosters. If you're familiar with other court sports, picking up pickleball can be easier than you think.
Like table tennis and badminton, pickleball courts are smaller than tennis courts, so there's not as much ground to cover. Their size also allows for more courts in a specific space.
Here's a quick roundup of pickleball basics:
It's played on a 20-by-40-foot badminton court with a ground-anchored net similar to that of a tennis court.
Also similar to other court games, you play singles and doubles.
Participants use paddles similar to those of table tennis to hit a round, perforated plastic ball.
A pickleball match resembles a tennis, table tennis or badminton match. You serve, volley and score points when your opponent misses shots or hits them out of bounds.
Pickleball at Plantation Bay
There are four pickleball courts at Plantation Bay, which also features two resort-style swimming pools, a cabana bar, full-service spa, fitness center and sun deck.
Talk about great choices!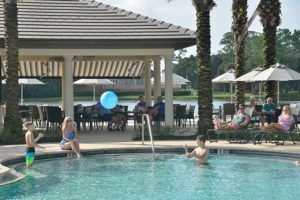 Plantation Bay's pickleball scene is active and popular. It's a great way to exercise and meet new neighbors. Beginners can attend sessions to learn how to play, and there's often friendly tournaments followed by socializing at the cabana bar.
Nearby are courts for basketball, bocce and tennis if you love those sports or want to try them. There are two courts each for bocce and basketball, plus 10 Har-Tru tennis courts.
Quick reminder: a Plantation Bay sports membership is required for pickleball. Grab our helpful brochure for more information.
Ready for your Plantation Bay lifestyle? Talk to ICI Homes here.