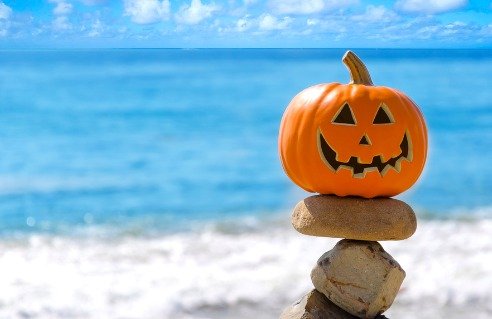 The month of October is usually filled with Oktoberfest celebrations, Halloween decorations, and plenty of football.
Here at Plantation Bay, the October Activities and Events schedule features all of those things, plus a healthy dose of golf and tennis!
The golf and tennis seasons are really hitting their stride this month as most of the leagues have kicked off by now, and we are absolutely packed solid with great events in addition to all of the usual social activities and dinner specials.
Here are some of the great activities and events that you won't want to miss in October:
Social Events
On Thursday, September 9, the Prestwick Clubhouse will be hosting a new type of Trivia Night. The event will be led by Mitch Tidwell and will feature an a la carte menu. There will also be a Book Club meeting at the Prestwick Clubhouse on the same evening.
The Prestwick Clubhouse will also be the host of the Biketoberfest Dinner and Karaoke party with DJ Mondo on Saturday, October 18. Guests will be asked to wear their best "bike week" attire and there will be a themed a la carte menu.
The biggest party of October will be the Halloween Bash held at Club de Bonmont on Thursday, October 30. Anyone attending this party is encouraged to show up in costume and there will be a full plated dinner. The Halloween Bash will also feature the live band, Traces of Gold, who will be performing all of your favorite hits from the 50's, 60's, and 70's!
If you are a football fan, you will also want to check out the Sunday football parties at the Prestwick Clubhouse. Wear your team colors and show up to watch the 4:00 pm games every Sunday and there will be great drink specials available!
Sports and Recreation
The biggest sporting event of the month at Plantation Bay will be the 2014 Club Championships, which will kick off the golf tournament season on October 24-25 on both the Prestwick and Club de Bonmont courses. The men's, ladies', and senior championships are open to all full golf members and are all very competitive.
In addition to the 2014 Club Championships, there will also be a Coastal Niners event at Club de Bonmont on Wednesday, October 1, a Niners Hubby/Friend Scramble on Thursday, October 23 at Club de Bonmont, and a Halloween Mixed Event on Sunday, October 26 at Prestwick.
On Saturday October 11, Chapter 86 of the Disabled American Veterans will hold its second annual golf outing fundraiser at the Club de Bonmont course. The day's festivities will begin with a continental breakfast at the clubhouse. The golf event features a number of special events and prizes and will be followed by a catered luncheon. Contact golf event chairman James Laughlin at 386-233-3784 for more information.
The Club de Bonmont Women's Golf Association will be hosting a membership luncheon meeting on October 30.
On the tennis side, the Embry-Riddle Clinic/Pro-Am will be held at 9:30 am on Saturday, October 25. There will also be Master's Tennis events on Saturday, October 18, Tuesday, October 28, and Thursday, October 30.
Dinner Specials
The Tuesday Night Dinner Specials at Club de Bonmont this month will include Family Favorites on October 7, Prime Rib Night on October 14, an Oktoberfest Birthday Night on October 21, and Corona Battered Cod on October 28.
Club de Bonmont will also be bringing back its Sunday Breakfast Specials starting on Sunday, October 19. Breakfast will be served from 10:00 am to 1:00 pm.
Whether you are getting your golf gear ready for the 2014 Club Championships, getting your bike week gear ready for the Biketoberfest Dinner, getting your costume ready for the Halloween Bash, or getting your football team gear ready for Sunday, make sure you are getting ready for something as there are plenty of opportunities to get out and socialize at Plantation Bay in the month of October!