One of the perks of living at Plantation Bay Golf & Country Club is the never-ending menu of activities available to community members.
With 45 holes of golf, a tennis center, a wellness center that incorporates a full-service spa, a resort-style pool pavilion, plus bocce and pickleball courts — whew! Who has time to enjoy the arts?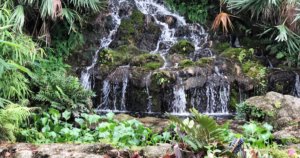 Plenty of Plantation Bay residents.
You'll find everything from seasonal pumpkin decorating, monthly Sip & Paint events at the Prestwick Clubhouse, monthly Plantation Bay Garden Club get-togethers for gardening enthusiasts, and an ongoing all-call for neighborhood Jazz aficionados to connect, listen and likely jam to some beats.
But if you seek to immerse yourself in the fine arts, at a venue you can patronize AND support, we've got a lovely suggestions in Plantation Bay's hometown of Ormond Beach.
The Ormond Memorial Art Museum & Gardens is an off-campus gem worth exploring.
Where it is
Head toward the beach side of downtown Ormond Beach. Pick your preferred route, south on either Interstate 95, or U.S. Highway 1. Then turn left on Granada Avenue (U.S. Highway 40) and head east toward the beach.
Once you cross the Atlantic Intracoastal Waterway, pass the Casements (John D. Rockefeller's winter home) and look for the traffic light at Halifax Drive.
You'll find the Ormond Memorial Art Museum & Gardens on the southeast corner of that intersection. Parking is available along streets and in nearby free, public lots. Admission is free, but donations are welcomed.
What it is
The Ormond Memorial Art Museum & Gardens opened in 1946. It centered around founding artist Malcolm Fraser, who wished to donate his work to an art museum honoring veterans.
The Ormond Beach community responded (local World War II veterans helped construct the building), and today the museum offers numerous permanent and changing exhibits, art classes, programs for kids and adults, an art festival, and an amazing commemorative garden beloved by generations of Ormond Beach residents.
As we speak, museum leadership is working with city leadership on expansion scenarios, so stay tuned for news on that.
But rest assured some of Fraser's work always displayed. And veterans always are special guests.
Don't miss the gardens
Definitely enjoy the museum's indoor sights and activities. But the lush gardens with their bright tropical foliage, ponds, cool green canopy and fun, twisty paths, are a special treat.
All sorts of personal, family and community occasions have been celebrated here. If you visit during workday hours, don't be shocked to employees from nearby businesses taking their lunch breaks on a bench or in the gardens' central gazebo.
The Garden Club of the Halifax Country works with Ormond Memorial Art Museum & Gardens staff on various projects, one of which was to save and relocate the 1885 Emmons Cottage from its original site on the Halifax River. It's now used for art classes.
Ready for your Plantation Bay lifestyle? Talk to us here.
Photo from OrmondArtMuseum.Org