Are you a new or prospective resident who enjoys creating, supporting or enjoying the arts? If so, a new custom Florida home at Plantation Bay Golf & Country Club is a great choice.
Plantation Bay's resident amenities are legendary (more on those below).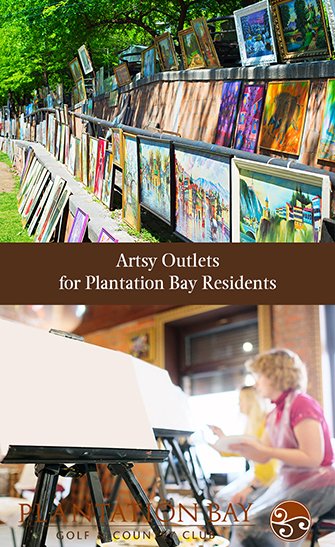 But art enthusiasts especially will be glad to know that artistic endeavors can be enjoyed close by in Ormond Beach, Plantation Bay's hometown. Also keep an eye on Plantation Bay's activity calendar for artsy events such as Sip and Create classes!
Here's more on how  Plantation Bay residents can explore the Ormond Beach arts community.
Plenty to do between art projects
This master-planned community is one of ICI Homes' signature properties, with good reason. Located in east central Florida near Interstate 95 and pristine Atlantic beaches, Plantation Bay puts residents within a short drive to Jacksonville and St. Augustine to the north, the action-packed Daytona Beach area to the south and close to Interstate 4, which leads to Orlando's world renowned attractions.
At home, you may be too entertained to find fun elsewhere! 45 holes of golf, a tennis center, fitness center, full-service spa, two resort-style swimming pools with a cabana, basketball and pickleball courts, and an exciting monthly events calendar are sure to keep you busy and having fun. Not to mention two neighborhood parks and miles of fitness paths.
But eventually, you'll likely want to explore the Ormond Beach arts community.
Festivals and events
Ormond Beach's historic main street of Granada Avenue (also State Highway 40) offers fun galleries, restaurants and shops to browse on the mainland side of the Intracoastal Waterway, and on its beach side.
At the heart of the Ormond Beach arts community is the area's largest art event, Art in the Park. It's an annual weekend artist market held at the beach-side Rockefeller Gardens, beyond the Intracoastal Waterway bridge. It's sponsored by the city and Ormond Memorial Art Museum & Gardens. Hint: enjoy a walk around Rockefeller Gardens, too.
The 48th annual Art in the Park takes place April 30-May 1. Get ready for works from artists and crafters, food trucks, awards and prizes, and free parking and admission.
Ormond Memorial Art Museum & Gardens
As co-sponsor of Art in the Park, this organization, founded in 1947, has a longtime mission of furthering art, education and honoring veterans. It's located a few blocks east of Rockefeller Gardens, also on Granada Avenue. Find handy, free street parking and in city lots.
Ormond Memorial Art Museum hosts regular classes, workshops and exhibitions. Out back, its garden offer walking paths, stunning tropical foliage, and places to sit and enjoy it all. Plenty of shade and sanctuary here!
The Casements
Along with Art in the Park, the historic winter home of John D. Rockefeller and its lovely Rockefeller Gardens hosts community events year-round.
Many are geared toward a specific arts discipline and other creative hobbies. The Ormond Beach Garden Club hosts an annual flower show and tea here. There's also a Casements Camera Club to check out.
Ready for your Plantation Bay lifestyle? Talk to ICI Homes here.