Plantation Bay Golf and Country Club, ICI Homes' 3,600-acre, signature community in Ormond Beach, offers both the breadth and quality of amenities to match its size.  Rather than recite them all, we'll just say if you can swing a club or racquet, or lounge by swimming pools and in spas, you'll be intrigued.  Add gated access, endless hiking trials and housing options that seem endless, and you might be dialing our phone numbers. But, don't overlook the importance of sheer beauty, or of metropolitan convenience.  Allow us to explain.
Plantation Bay is a Beautiful Place
The Florida feel is abundant here with palms and flowering tropical shrubs, but Mother Nature contributes massive live oaks, thick coastal forests and spectacular sunsets. She also contributes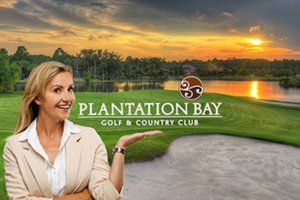 furry and feathered friends. Drive anywhere in Plantation Bay and you'll spot small diamond-shaped brown and white signs that warn of wild turkey and deer crossings. Plantation Bay's three golf courses contribute to the ambiance, framing neighborhoods with manicured fairways and greens. White sand traps glow against deep green turf. Clumps of ornamental grasses shield sections of the course from neighborhood streets.
Want your own park? The Westlake Park neighborhood in Plantation Bay's southwest corner features a giant lighted fountain and walking trails. Speaking of water…It's everywhere, from strategic golfing hazards to large Lake de Bonmont, near the north entrance. Fountains sparkle in the midst of most ponds, and small stone bridges that connect sidewalks and cart paths, arch gracefully over creeks and canals.
Plantation Bay is a Convenient Place
Located just west of Interstate 95, off Exit 278, Plantation Bay won't require you to drive miles to find civilization. Atlantic beaches are four miles and a mere 10-minute drive east. Flagler Beach's Old Florida-style beach bars and fishing pier are only a little further north. Plantation Bay's hometown of Ormond Beach? Only a few more minutes south.
Daytona International Speedway and the "World's Most Famous Beach" are 18 miles south on I-95. The same interstate also is your easy conduit to some of Florida's most well-known destinations. Highly historic St. Augustine, the nation's oldest city, is only 39 miles north of Plantation Bay. How about Jacksonville? Only 75 miles north. Want to explore Cape Canaveral and NASA? Both are 90 miles south on I-95. Set your favorite GPS device or mapping app and hit the road!
Searching for that blend of beauty and convenience for your new Florida home? ICI Homes has you covered. Click here to begin.