Located in Ormond Beach, Plantation Bay is a master-planned community that's been around long enough to be established, and to offer exceptional long-term value. Yet it's also still growing and developing, with plenty of new homes and neighborhoods awaiting new residents.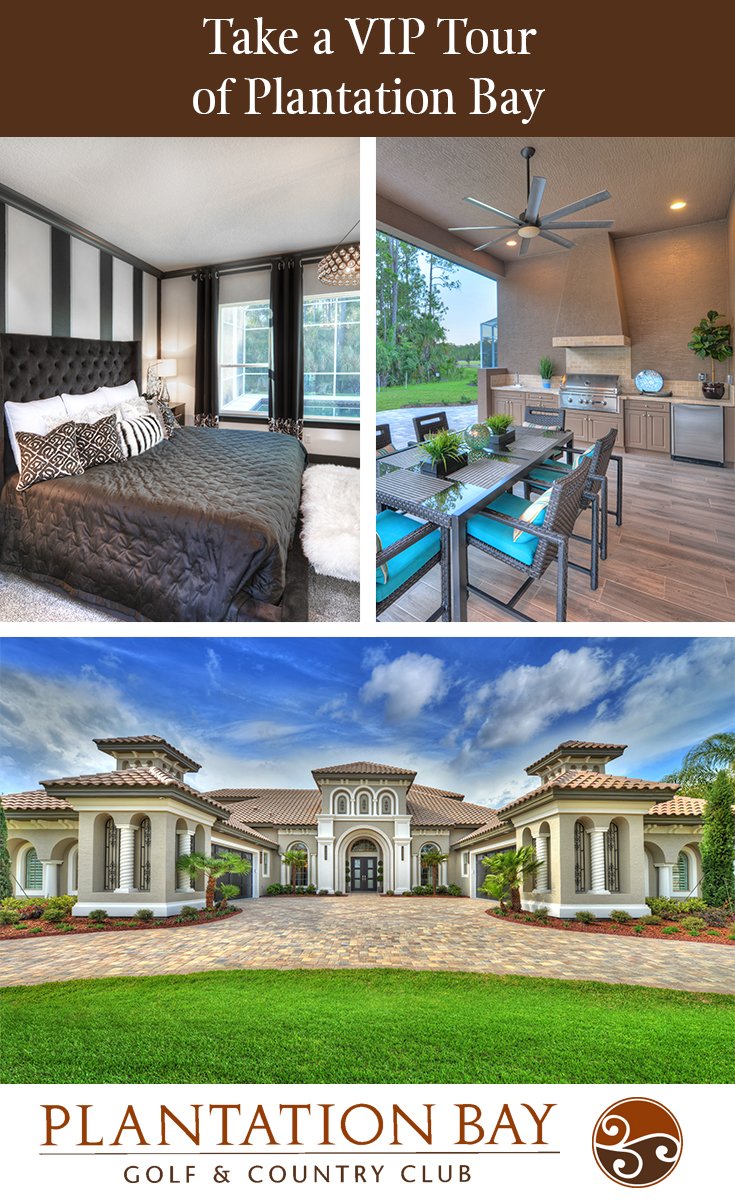 The best way to check out Plantation Bay is via a VIP Tour. A community expert will guide you through everything currently available, and on the drawing board. Their knowledge maximizes your time.
Read on for what to expect from a VIP Tour of Plantation Bay.
You'll learn everything about homes, homesites and neighborhoods
Plantation Bay is a big place — 3,600 acres. We want to make sure you can easily find all the highlights that are important to you. Your expert can put you right where it's most helpful, whether touring model homes, finished inventory homes, homes under construction or newly opened neighborhoods. You'll find everything from easy-living club villas, to homes under 2,000 square feet, to larger family homes and lavish estate homes.
Your expert can also take you straight to available lots and homes that might match your preferences. We can also help you scope out choices if you're uncertain what you'd like.
Best of all, your expert will walk you through the floorplans available for Plantation Bay's new neighborhoods, and show you customizable options for each one (ICI Homes is Florida's Custom Home Builder! We can customize almost any plan, often at no or low cost).
You'll learn everything about amenities and Ormond Beach
Plantation Bay is so chock-full of resident amenities, that we're afraid we'll exhaust you (and us) by trying to enumerate them here. Check out the community website for full details.
However, there are 45 holes of golf — two 18-hole and one nine-hole courses — two clubhouses and accompanying social scenes, a tennis center, wellness center, resort-style swimming pools, pickleball courts, outdoor basketball court, a full-service spa…and we're exhausted!
Your community expert knows every bit of that, and can summarize it all.
Another thing your expert can do is prepare you to explore Ormond Beach. It's one of the lovely beach towns that make up the greater Daytona Beach area. Ormond Beach is a few miles north of Daytona Beach, the World's Most Famous Beach, and enduring attractions such as Daytona International Speedway.
Ormond Beach also claims its own racing history. It's the Birthplace of Speed, where folks first raced on hard-packed Atlantic sands at the turn of the 20th century. Nowadays, there's plenty of 21st-century shopping, dining, services and recreation to sample along with history beyond Plantation Bay's gated oasis.
Put your community expert's inside information to work!
Ready for your Plantation Bay lifestyle? Talk to ICI Homes here.