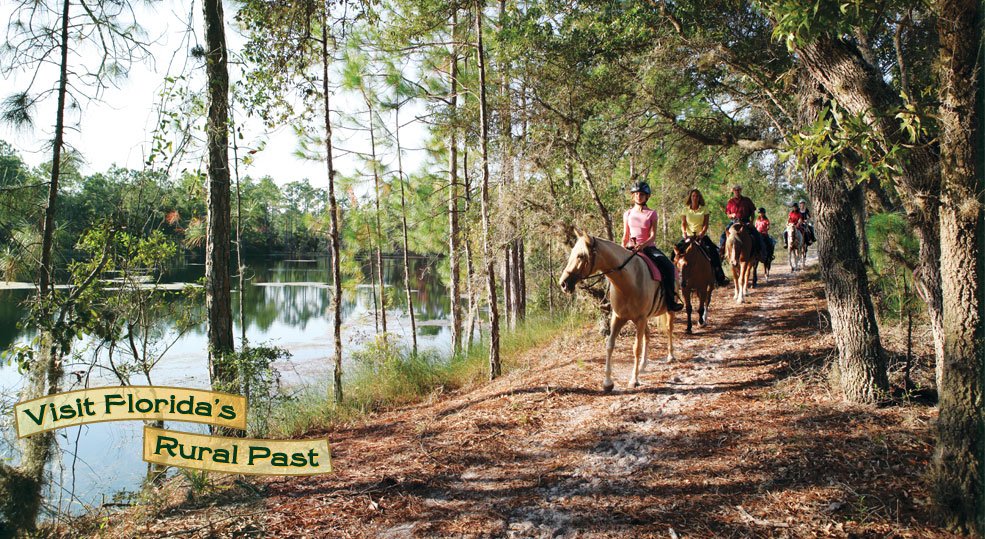 The Florida Agricultural Museum is open every Wednesday through Sunday and is located about 20 minutes north of Plantation Bay in Palm Coast. It is a great place for visitors to learn a little more about the deep history of agriculture in Florida while having some great fun in the process.
Florida has a long and interesting history with the agriculture industry that dates all the way back to its first settlers in 1565 near what has become St. Augustine.
In 1983, a group of concerned agriculture historians created the Florida Agriculture Museum in Tallahassee in order to preserve this rich history.
Then, in 1997, the Florida Agriculture Museum packed up and relocated, buildings and all, to a new home on 460 spacious acres in Flagler County, just 20 minutes away from Plantation Bay.
Since then, it has become one of the most popular attractions in all of Flagler County for visitors of all ages. Since we are right in the middle of the harvest season, now is the perfect time to plan your trip to the Florida Agricultural Museum.
Visiting the Florida Agricultural Museum
The first thing you will want to do at the Florida Agricultural Museum is take the guided tour, which ranges from 90 minutes to two hours. You will climb aboard a covered wagon that features stadium-style seating so that everyone has a great view. The wagon is pulled by antique tractor driven by your tour guide.
Along the tour, you will learn more about farm activities, meet farm animals, and travel back in time to experience what life was like for early Floridians.
The guided tour will take you past structures like a 1940s dairy barn, a complex of buildings that would have been found on a typical citrus farm, and a homestead that demonstrates what home-life was like for farmers. There is also a 1890s-style commissary and a historic exhibit detailing the history of black cowboys in Florida.
One of the most fascinating exhibits on the property is Hewitt's Sawmill, which is an archaeological site where a water-powered sawmill operated from 1770 through 1813. You can see where the sawmill once stood and how it might have operated.
Horseback Riding
Because of its open space and stable of farm animals, the Florida Agricultural Museum is a great place to visit for those who love horseback riding. There are a number of different trails that weave their way throughout the property's fields and through its woods.
If you are nervous about attempting to ride, there are lessons available for riders of all skill levels. The museum also offers riding camps for children every summer where kids can learn how to safely ride and care for the horses.
Parties & Events
One of the hottest trends in the wedding and banquet business is the outdoor rustic atmosphere and decor. The Florida Agricultural Museum has that look and feel in spades. Its Caldwell Barn facility offers the look and feel of an outdoor barn reception hall with all of the amenities you would expect from a modern facility. The facility can host functions of up to 170 people.
In addition to private parties, the museum also hosts plenty of exciting events throughout the year. Events like Civil War Re-Enactments, Spicy Food & Blues Festivals, Haunted Trails, and Holiday Craft Shopping are scheduled regularly, so you will want to check their events calendar to make sure you don't miss out on anything.