Plantation Bay residents are never far from water, and we at ICI Homes don't mean the garden hose or indoor plumbing! Let's talk about Plantation Bay's most striking water features.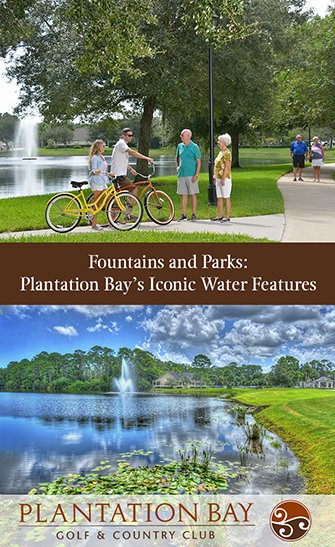 Pools, hot tubs or other backyard outdoor-living features count too, but here, we're spotlighting those can't-miss lakes and fountains around the community.
Plantation Bay's 3,600 acres, much of which is preserve land, is pocketed by these bodies of water. They're both obstacles and ornaments throughout Plantation Bay's renowned 45 hours of golf, and the instruction facilities include a unique aqua range, which hones players' ability to confront water hazards.
Whether you're a Plantation Bay resident or considering becoming one, it's nice to live alongside water features that naturally soothe us, visually expand our outdoor surroundings and serve as never-ending photo fodder.
No matter the size, their shimmery and serene presence also hints at a gigantic version, the Atlantic Ocean, whose beaches lie only 10 minutes east of Plantation Bay. What a bonus, right?
Read more to learn about Plantation Bay's picturesque water features — Lake de Bonmont, and those at Prestwick Park and Westlake Park.
Lake de Bonmont
You can't miss it after you drive past Plantation Bay's main gated entrance.
If you haven't visited this master-planned community in Ormond Beach, put the phone aside (snap photos on the way out).
Lake de Bonmont is Plantation Bay's largest water feature and it's on the left as you enter the community. See that soaring fountain? Happily, it's the first of many and striking from all angles.
Lake de Bonmont and its fountain forms the stunning backdrop both for Plantation's Bay's pool pavilion, and the Club de Bonmont clubhouse across the water. It's also a pleasant component, in passing, of many residents' daily bicycle rides or runs along the community's sidewalks and trails.
Prestwick Park
On the south side of Plantation Bay, the rear of the Club Prestwick clubhouse also overlooks a lake that's smaller and quieter, but no less tranquil.
Also in this area is Prestwick Park, a landscaped green space with benches, sidewalks that encircle Prestwick Park's lake, and a lakeside gazebo.
A fountain spray burbles near the gazebo, which has hosted many an outdoor wedding ceremony and, likely, engagement photos.
Prestwick Park and its water features draws resident from many neighborhoods on Plantation Bay's south side. It's also the site of the bi-annual community-wide Music in the Park event.
Westlake Park
Like Prestwick Park, Westlake Park is a timeless landscaping feature and gathering spot for neighborhoods on Plantation's Bay's west side.
It's a newer park, so no gazebo — yet — but its small lake is punctuated by a robust fountain that undoubtedly sparks smiles from passing dog walkers, runners, cyclists and families out for a stroll on its sidewalks.
Ready for your Plantation Bay lifestyle? Talk to us here.