Proximity to water is why many people move to Florida. If that's on your wish list, allow us at ICI Homes to describe Plantation Bay water features and more in this beautiful golf & country club checks that box.
"Golf courses," you think. "A pond or two."
How about THREE golf courses, ONE signature lake and TWO resident parks?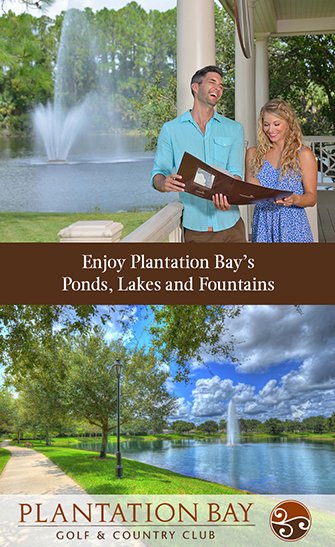 And so many ponds and lakes that it would take forever to count them? Well, most of a day!
This 3,600-acre, master-planned community in Ormond Beach is one of our signature communities. The private, gated environs is beautiful year round and amazing amenities await — among them two golf clubhouses with social and dining scenes, a wellness center that includes a fitness center, full-service spa, two resort-style swimming pools and cabana bar.
There's so much to like here, it's easy to get distracted from your wish list.
Allow us to elaborate.
Water everywhere
Enter the community via its main gate off Old Dixie Highway and be greeted by a serene vista to your left, before you ever reach the gate — the first of many bodies of water you'll see centered by a spewing fountain.
Once inside the gate, large Lake de Bonmont shimmers on your left, with the pool pavilion on its north banks and the Club de Bonmont clubhouse on its south banks. There's an epic fountain in its midst that frequently appears in social media posts. Benches along the sidewalk, and decks at the pool pavilion and clubhouse are prime viewing locations.
Continue driving past the golf course holes closest to the Club de Bonmont clubhouse, and you'll spot several other spectacular, larger lakes with fountains.
Ponds and small lakes accent every Plantation Bay neighborhood, sometimes forming the scenic rear backdrop for an entire street of homes. Water features also dot pocket parks, neighborhood green spaces and Prestwick and Westlake Parks.
Of course, there are myriad water hazards on the Club de Bonmont, Prestwick and Westlake golf courses, but here's a kindly reminder not to walk the courses to suss them out. Your golfing neighbors will appreciate the courtesy, plus you won't get plunked by someone's drive to a green.
Plantation Bay water features and fountains
Not every pond and lake in Plantation Bay contains a decorative fountain, but many do.
To get you started, check out the waterways in one of Plantation Bay's newest communities, Stirling Bridge. There are no less than five ponds with fountains, including three bordered with sidewalks and the occasional park bench.
Speaking of benches…
How to enjoy it all
Most of the Plantation Bay water features can be enjoyed as you drive, cycle, run or walk by them. Use them as landmarks, particularly if you're new to the community.
Another suggestion? Make time to enjoy them as you walk the dog, run or cycle. Pause to rest on a bench and grab the phone for a photo.
Bonus: many of those benches are shaded!
Ready for your Plantation Bay lifestyle? Talk to us here.