Last weekend Club de Bonmont and Prestwick hosted the Men's Member Guest Golf Tournament.
This is always one of the most anticipated events on the Plantation Bay calendar, and this year's event was one of the best ever. The weather was spectacular for the entire week and the players enjoyed a fun round robin format competition and great food service during the tournament.
The event began on Thursday April 3rd, with a Skills Challenge encompassing putting, chipping, and closest to the pin contests.
The putting contest resulted in a tie between Mike Falkowski and Paul McKay.
Mori Hosseini took 1st in the chipping contest with Dr. Vipin Patel and Larry Stewart claiming 2nd and 3rd respectively.
The "Closest to the Pin" contest was won by Paul McKay, followed by Tom Najarian and Marshall Snyder in 2nd and 3rd.
Also on Thursday the Player's Party took place where members and their guests had a chance to catch-up as well as fuel-up for the days of competition that lay ahead. Players enjoyed great food, an open bar and some friendly wagering as to which team would bring in the championship.
On Friday the tournament began, with two-man teams comprised of one member and one guest competing in head-to-head match play.
Our overall Member ~ Guest Champions (Pine Valley Flight Winners) were member Bryant Perszyk and his guest Mark Bennett.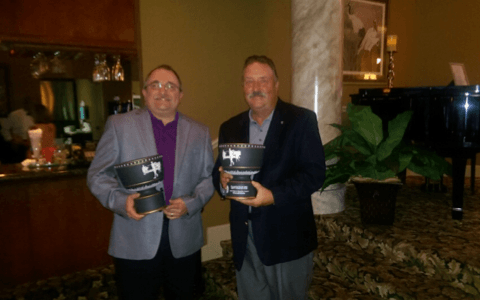 Other flight winners taking home hardware this year included:
Pebble Beach Flight Winners
Member Herb Hunter & his guest Paul McKay
Cypress Point Flight Winners
Member Sheriff Guindi & his guest Dr. Robert Guindi
Merion Flight Winners
Member Lee Aldrich & his guest Darryl Allen
Augusta National Flight Winners
Member Rick Semko & his guest Charlie Wood
This year's Men's Member – Guest was capped off with an Awards Gala featuring dinner and dancing on Saturday evening.
We look forward to seeing everyone back again next year for another great event.