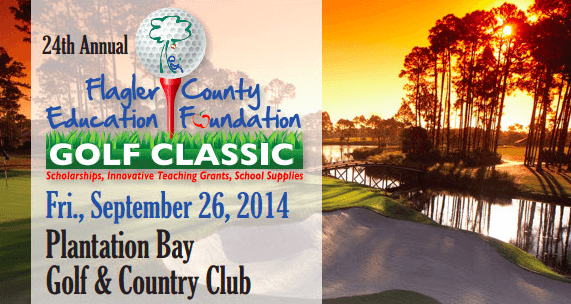 Would you like to help raise money for a great cause while at the same time enjoying a round of golf and plenty of delicious food?
That's the goal behind the 24th Annual Flagler County Education Foundation Golf Classic, which is scheduled to take place on Friday, September 26 at Plantation Bay.
Participants will enjoy a round of golf at Club de Bonmont filled with exciting contests, food, and spirits at every single hole, as well as a great dinner following the event.
Event Info
The 24th Annual Flagler County Education Foundation Golf Classic will be a straight scramble, where participants are free to form their own foursomes.
There will be a shotgun start at noon on the day of the event, with dinner and cocktails following at 5:00 pm.
There will be separate competitive categories for teams comprised of all men, all women, and both men and women.
You can register online or on the day of the event.
Day of event registration will take place near the driving range at Club de Bonmont. Participants will be playing the North/South Championship Course. The cost of the event is $125 per person, which includes greens fees, tournament shirt and hat, and food and beverages.
There will also be unlimited hot dogs and cake available at the registration table!
Contests & Refreshments
In addition to competing to see which team has the best round of golf, there will also be plenty of individual competitions that will be managed by more than 35 volunteers from the Plantation Bay community.
These contests will kick off right next to the registration table where you will find a chipping contest, putting contest, and a "Bet My Drive" contest.
Each of the four par three holes on the course will feature either a hole-in-one challenge or a closest to the pin competition.
Other individual competitions will include a "Buy the Pro" hole, a "Dice Game" hole, and a longest drive competition. There will also be a Pink Skirt Hole that will require each of the men to wear a pink skirt as they drive their tee shots!
Each of these side contests will have great prizes, and all of the other holes will either have some type of mini game, food, or beverage.
The food along the course will be provided by local restaurants like Olive Garden, Sally's Ice Cream, Firehouse Subs, Bull Creek Restaurant, and Woody's.
There will also be holes with rum punch, tequila Jell-O shots, cigars, beer, and soda.
About Flagler County Education Foundation
The best part of this event is that all of the money raised from the entry fees and contests will be used to support the Flagler County Education Foundation, which was formed in 1990 with the goal of supporting and enhancing local public education in Flagler County.
The specific goal of the event is to raise money and collect items for the S.T.U.F.F. Bus. The S.T.U.F.F. acronym stands for "Supplying Things You Find Fundamental", which includes all of the basics that children need for school.
The bus collects items like notebooks, pens, pencils, crayons, scissors, backpacks, and clothing for school guidance counselors to distribute to families that have trouble affording these things.
The best part about golf outings like this is that you don't have to be Phil Mickelson to have a good time. The actual competition is secondary to the idea of having fun while raising money for a great cause.
If you've been looking for a great way to give something back to our wonderful community this month, The Flagler County Education Foundation Golf Classic is a great way to do just that.
And don't forget, even if you can't participate, you can still stop by and donate items to the S.T.U.F.F. bus!