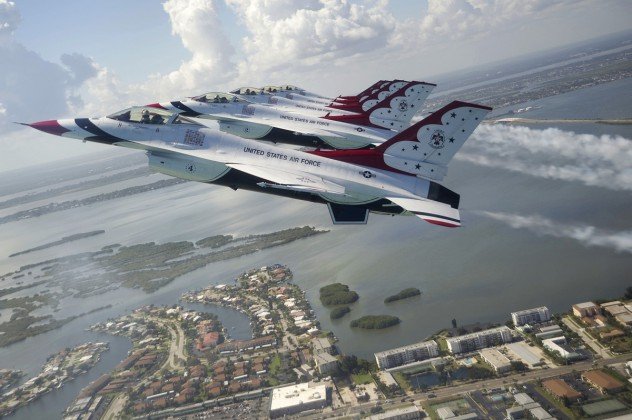 In addition to all of the great events and activities that will be happening right here in Plantation Bay over the last three months of the year, there are also a number of big events that are scheduled in the surrounding area.
Plantation Bay residents will surely want to mark some of these upcoming events on their calendars.
Wings and Waves Air Show
On the weekend of October 11-12, you will want to take a ride down to the Hilton Daytona Beach Oceanfront Resort. The show is held out over the Atlantic Ocean and visitors are able to watch all of the performances right from the beach.
The event will start at 11:00 am on both days and run until 4:00 pm.
Admission is free, and there will be play-by-play coverage available on local radio.
Perhaps the highlight of the show will be a one-hour performance from the United States Air Force Thunderbirds, which will consist of six state-of-the-art F-16s flying close enough to touch each other.
The show will also feature dozens of other acrobatic aircrafts like the Firebirds Xtreme, 4ce Formation Aerobatics, Jim Tobul, Gene McNeely, and many more.
There will also be a performance from the Lucas Oil Skydivers.
2014 Fall Home Show
This is one of the biggest, most exciting events held at the Daytona Beach Ocean Center every year.
This year, the Fall Home Show will take place on the weekend of October 24-26. The show will start at 10:00 am every day that weekend and run until 6:00 pm on Friday and Saturday and 4:00 pm on Sunday.
This huge trade show will showcase hundreds of vendors covering just about every aspect of your home and garden that you could possibly imagine. There will be lots of great outdoor options like hot tubs and patios, all of the latest and greatest kitchen and bathroom features, and even great booths dedicated to pet owners!
Whether you are considering building a new home, renovating your existing home, redecorating that one room that doesn't seem right, or just looking for something fun to do on the weekend, the 2014 Fall Home Show is going to be absolutely packed with great ideas and inspirations for your home.
Music, Comedy and Broadway Shows
This 2,500-seat performance center does a great job of booking a regular rotation of musicians, comedians, and Broadway shows. Regardless of what type of shows you prefer, there is something for everyone in the wide mix of events coming to the Peabody this fall.
For music lovers, the Peabody Auditorium will be hosting Chicago on October 4 and Emmylou Harris on November 13. If comedy is your thing, you won't want to miss Jerry Seinfeld on November 15 or Lewis Black on December 12. The Peabody Auditorium will also host performances of Mamma Mia on November 16, Cirque Dreams Holidaze on November 16, and The Nutcracker Ballet on December 6-7.
Each of these local events offers an exciting twist on your normal routine. Make sure that you make your calendars, and if you are planning to attend any of the shows at the Peabody Auditorium, be sure to get your tickets right away before your event is sold out.
See you around town!