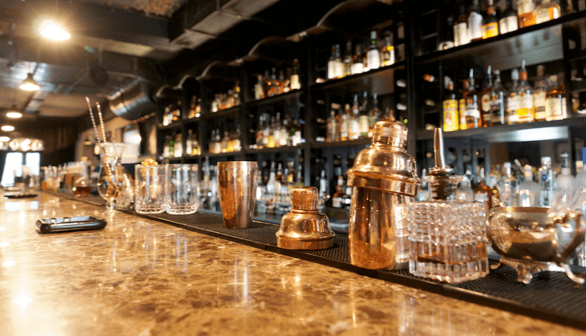 The areas around Plantation Bay and Ormond Beach are filled with great places to relax with an evening cocktail. Some of the best bars and pubs in all of Florida are located right in this area. Many of them are well known by local residents, but there are also some hidden gems that you might not have heard about.
Here are some of the most popular bars and pubs in the Ormond Beach area:
Billy's Tap Room & Grill
Billy's Tap Room has a storied history as part of the Ormond Beach Community. The restaurant began as a part of the Ormond Beach Hotel property in 1922. The current location was purchased by Billy MacDonald to be a combination drug store, soda fountain, and restaurant. Billy's continued to evolve over the years and business really took off following the end of prohibition. While ownership has changed hands many times over the years, the restaurant has always represented some of the very best dining in Ormond Beach.
Menu specialties at Billy's include a fantastic selection of steaks and seafood. Prime rib and live Maine lobster are available daily. There is live music every Thursday, Friday, and Saturday night, and many local groups hold meetings in the MacDonald room upstairs.
http://www.billystaproomormondbeach.com/
Buffington's Bar & Grill
It's hard to talk about pubs in Ormond Beach without mentioning Buffington's Bar & Grill. The Buffington Brothers have really gone out of their way to create an authentic pub atmosphere complete with dark wood and black leather.
Like any good pub, Buffington's Bar & Grill is known for their corned beef and cabbage dish. They also specialize in fresh, hand-made burgers and many creative steak, seafood, and roasted entrees. There is a wide selection of craft beers and liquors available, as well as all of the standard options and an always-improving wine list.
Fletcher's Cigar Bar
Cigar lovers cannot help being drawn towards Fletcher's Cigar Bar. This establishment offers the luxury of relaxing with a fine cigar, as well as a cocktail, in a refined environment. Thanks to their state-of-the-art ventilation system, Fletcher's is able to offer all of the benefits of an old-fashioned cigar bar, without the smell.
Fletcher's carries a wide selection of fine cigars, including brands like CAO, Cohiba, Acid, Padrom, Opus X, Olivia, Fuente, Ashton, and Macanudo. If you are new to the cigar world, their friendly bartenders will be happy to explain anything to you. They also sell all of the accessories you might need or want to purchase for home.
In addition to cigars, Fletcher's also offers a great selection of craft beers and a nice selection of wines.
Houligans
Houligans is known around Volusia County for being a family-friendly sports bar and restaurant. The restaurants really took off when one of the original founders, Tim Curtis, teamed up with local entrepreneur Gale Lemerand in expanding Houligans to a total of four locations. The "original" Houligans in Ormond Beach is still one of the most popular restaurants in town.
The menu at Houligans features a wide range of everything from bar food, to ribs, to grilled fish and shrimp. The most famous menu item is The Wally Wing, which is a grilled chicken wing that is tossed in whatever wing sauce you prefer.
Stonewood Grill & Tavern
Stonewood Grill & Tavern is another restaurant that Gale Lemerand has had a hand in creating. This upscale restaurant offers some of the finest dining in Ormond Beach. The menu focuses on premium aged beef and fresh seafood that is cooked over their signature oak grill.
In addition to the delicious food on their menu, Stonewood Grill & Tavern is also known for having one of the biggest and most impressive wine lists in the area. They have received the Award of Excellence from Wine Spectator, and were also commended on their wine list in Seminole Magazine.
Bars In Plantation Bay
Don't feel like leaving the community? You don't have to!
There are two very cozy bars inside Plantation Bay. The first one is at Club de Bonmont with Happy Hour Tuesday through Friday from 4-5 p.m.
The other bar within Plantation Bay is at the Prestwick Clubhouse which has Happy Hour Monday/Tuesday and Thursday/Friday from 4-6 p.m.
As you can see, Plantation Bay and Ormond Beach offer a great selection of different types of bars and pubs. Whether you are looking for martinis after dinner, beers while watching the game, or live music and fine cigars, there are plenty of local watering holes ready to meet your needs.
Locals, let us know about your favorite local bars in the comments below.