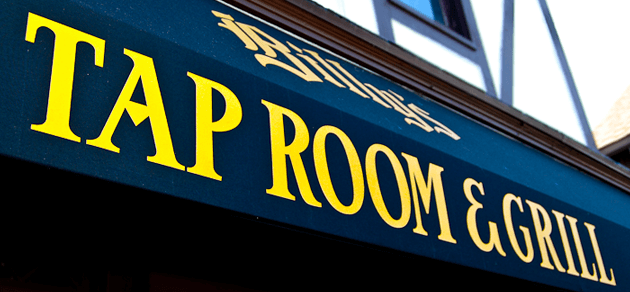 When Plantation Bay residents are looking for a first-class dinner in Ormond Beach, one of their favorite places to visit is Billy's Tap Room on the corner of East Granada Boulevard and South Halifax Drive.
Billy's has been around in one form or another since 1922, and since the current owners took over in 2011 it has been one of the finest seafood restaurants in the area.
With its rich history, outstanding food, and white linen tablecloths, Billy's Tap Room is the perfect place to celebrate a birthday or anniversary.
If you have a larger party, their two banquet rooms are also a great option. Regardless of the room or occasion, the food at Billy's is always first-class and sure to impress!
History of Billy's Tap Room
Billy's Tap Room didn't start out as anything close to the version that you will find there today. It actually didn't start out as a taproom at all, or even a restaurant for that matter.
In 1922, the owners of the Ormond Beach Hotel contacted Billy MacDonald, who was a well-known hotel lounge manager in New York City, and asked him to manage their tearoom.
You might be wondering why on earth a reputable lounge Manager in New York City would pack up and move to Florida to open a tea room, but you have to keep in mind that this was during prohibition, so there weren't any lounges selling alcohol. Managing the Ormond Beach Motel Tea Room was probably a pretty good gig at that time.
In 1926, Billy purchased a building and opened a drug store where the restaurant is located today. His store specialized in selling fruits, jellies, sandwiches, and newspapers. There were also rumors of a secret room in the back with slot machines and home-brewed beer.
Throughout the 1930s the drugstore evolved into more of a restaurant, and after prohibition was repealed it became a full service pub.
Ownership of Billy's Tap Room passed from Billy to his sons Frank and Billy Jr. They sold the restaurant when they retired in 1985, and since that time it has changed hands more than a few times.
The last time it was sold was in 2011 when Doug and Lillian Rand purchased it and have since worked tirelessly to return the restaurant to it prominent place in Ormond Beach history.
The Menu
Most of the signature items on the menu at Billy's Tap Room are found in the seafood section. In addition to Live Maine Lobster and Surf & Turf dishes, this section includes dishes like Billy's Signature Crab Cakes, Grouper en Papillote, Grilled Salmon, and Golden Fried Scallops.
On top of those choices, what pub would be complete without a great fish & chips dish, so Bill's has that too!
Even if you aren't a seafood lover, there are still plenty of options to choose from on the rest of the menu. Billy's serves signature Veal, Chicken, Pork, and Pasta dishes as well. If you are in the mood for lighter fare, the soup, salad, and appetizer menus offer even more selections.
Banquet Rooms
For those who are looking for a location to host a larger party or meeting, Billy's has two different banquet rooms that can host parties, weddings, rehearsal dinners, family reunions, and other types of meetings.
The MacDonald Room is located above the restaurant in the room where Billy and his family lived back in the 1930s. This room has been used as a meeting place for local organizations since the early 1960s. The second banquet room was acquired in 1997 and can hold even larger parties. Billy's offers a specific banquet menu that is available for functions in these rooms. It features many different options to choose from for beef, fish, and chicken dishes.
When it comes to high-end dining in Ormond Beach, Billy's Tap Room is at the top of the list. If you are looking to celebrate a special event, this is one of the best places you could choose for the party.
Between the great food, rich atmosphere, and fascinating history, Billy's offers its patrons the total package!
Image via billystaproomormondbeach.com