Did you know history lives across the street from Plantation Bay Golf & Country Club?
Like, almost LITERALLY across the street. Five minutes and 2.5 miles.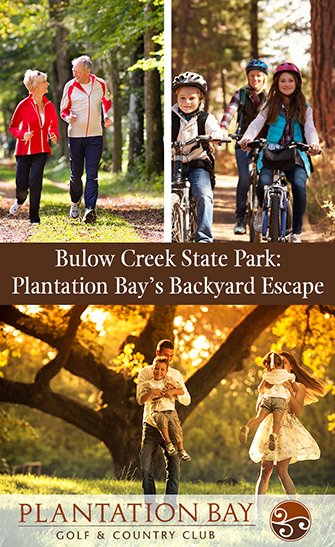 That's the distance from Plantation Bay's gated entrance off Exit 278 of Interstate 95. If you reside further south in the community, add a couple miles to your drive or bicycle ride.
But no matter the distance, go visit Bulow Creek State Park on the east side of I-95 from Plantation Bay. There's a tremendous history there and throughout this portion of east central Florida, which you may not know if you're just moved here, or would like to, from other parts of North America.
Bulow Creek State Park isn't only a history lesson, either. It contains amazing natural beauty and resources, and is a great escape any time you need to leave the noisy world behind.
Here's our primer on how to become a Plantation Bay "historian."
What's Bulow Creek State Park?
Not a boring nature preserve, although there's plenty of nature to love.
Its coastal forests, creeks and marshes encompass almost 5,600 acres. Roughly of quarter of that lies underwater — those tidal creeks and marshes — and all of it protects land and old-growth live oaks that can't be replaced.
Best of all? It's free! There's no admission to this state park, whose entrance is located just across Old Dixie Highway from a Publix shopping center.
What to do and see here
This is outdoor-recreation territory, which makes it a perfect backyard escape for Plantation Bay residents.
Bulow Creek State Park is a hop, skip and jump from Atlantic Ocean beaches, and its namesake Bulow Creek forms one of its boundaries. The park protects one of Florida's historic southern live-oak forests — a rarity now on the east coast.
Those giant oaks tower over acres of low country. Their prince is the 400-to 600-year-old Fairchild Oak on the bank of a freshwater creek. It's near the park entrance and simply amazing. Please be respectful and don't climb on its massive, rambling branches — or any oak in the park.
Two trails transport you deep into Bulow Creek's coastal habitat for a taste of Old Florida. The Bulow Woods Trail is 6.8 miles with a northern component that leads north to Bulow Plantation Ruins Historic State Park, and a southern component that formed part of an old plantation road.
Either way, you're treading in historic footsteps. The naturalist John Audubon hiked here in January 1832. So did many native Americans before and after him.
The Wahlin Trail is less than a mile and leads you into the woods and ravine behind the Fairchild Oak.
Other things you can do at Bulow Creek State Park? Picnic at a pavilion near the Fairchild Oak. Go birding. Kayak, canoe and paddleboard its creeks, or hop on a mountain bike for a two-wheeled view.
Ready for your Plantation Bay lifestyle? Talk to us here.