Plantation Bay Golf & Country Club residents have so many activities within their own community that it might be challenging to leave for fun experiences elsewhere. But Plantation Bay's Ormond Beach, Florida location is perfect for sampling east central Florida's attractions. The vibrant and growing metro areas are filled with recreational offerings. These include arts and cultural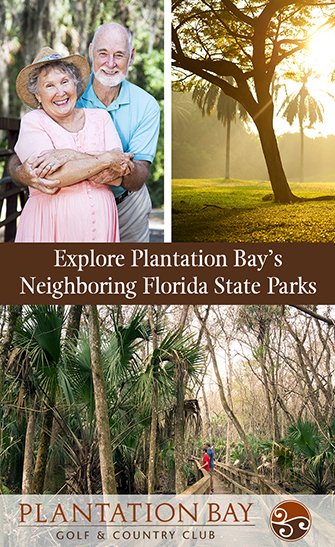 opportunities, rich history, Florida state parks, and of course, gorgeous Atlantic beaches.
Are you're considering a new custom home at Plantation Bay? Or, are you newly arrived and want to explore the area? We at ICI Homes have some recommendations.
One of our suggestions is nearby Florida state parks. Historic and environmentally significant lands lie just to the east, north and south of Plantation Bay, and feature a variety of vistas you'll likely return to. These parks also offer visitor-friendly activities and educational opportunities.
Here's why you should explore Plantation Bay's neighboring state parks.
Bulow Creek State Park
The closest state park to Plantation Bay is 5,600-acre Bulow Creek State Park — always awesome if you love giant, ancient oaks and hiking trails — which we've detailed in an earlier post. It's only 2.5 miles east of Plantation Bay's main gate and admission is FREE.
Here you'll find coastal forests, creeks and marshes. Approximately a quarter of this park's acreage lies underwater and all of it protects land and old-growth live oaks. The best known is the 400-to 600-year-old Fairchild Oak. Two hiking trails take you deeper into the park, the longest of which transports you north to…
Bulow Plantation Ruins Historic State Park
These 150 acres preserve the ruins of Bulow Plantation, which was destroyed in 1836 during the Second Seminole War.
When Florida was under British rule in the mid-18th and early 19th centuries, the British government provided land grants to settle its east coast. Local plantations took root, producing numerous crops and goods (particularly sugar cane) but most were destroyed during the Seminole Wars of the early and mid-1800s.
Today, Bulow Plantation Ruins Historic State Park include the foundations of many buildings, notably the sugar mill. Follow a walking trail to the mill, spend time in the park's interpretive center, enjoy a picnic in its pavilion or launch non-motorized or small motorized boats in historic Bulow Creek.
Addison Blockhouse Historic State Park
This small park preserves ruins from another vanished plantation — an 18th-century, outdoor kitchen-turned-blockhouse (or fortress) used for defense during the Seminole Wars.
The ruins of a circa-1832 sugar mill also are on property. But this state park — accessible only by boat — isn't open to the public in order to protect the blockhouse. However, according to VisitFlorida.com, there are sometimes are historical society outings or lead interpretative hikes that can take you there. They recommend contacting the park for more information.
Tomoka State Park
Tomoka State Park, a 900-acre peninsula slightly northeast of Plantation Bay, might be the most compact of those we're spotlighting, but its menu of activities and history might make it the most compelling.
Stay tuned for a future post about Tomoka State Park.
Ready for your new custom Florida home? Talk to ICI Homes here.