Plantation Bay Golf & Country Club offers so many top-shelf resident amenities that it's difficult to choose one to spotlight. But today, we at ICI Homes highlight the Cabana at the pool pavilion.
This open-air gathering spot between Plantation Bay's pools and Lake de Bonmont boasts superb views, comfy lounge chairs, plus food and beverage options.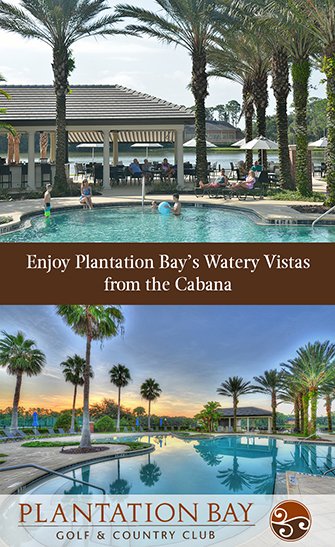 There's even live entertainment on the weekends!
It's a social hub during late-afternoon and evening social hours, but also a great place to eat lunch in your bathing suit, cool off under ceiling fans, or roast marshmallows after dark.
The Cabana is a poolside retreat. It's open to Plantation Bay residents who have full memberships, sports memberships or fitness memberships, and it's welcoming to one person or many. On quiet days, it can host a solo reader with a good book. On sun-splashed afternoons, a group of friends and neighbors may be Cabana-bound.
Either way, the Cabana is a great location for enjoying Plantation Bay's watery vistas.
Signature views
The pool pavilion is part of Plantation Bay's wellness complex, which contains the pools, their decks, the Cabana, a fitness center and full-service spa.
If you live here, you're probably aware of this irresistible area. If you're considering buying or building a new custom Florida home at Plantation Bay, the wellness complex is only one next-level amenity in this master-planned community in Ormond Beach. We'll save the others for another time (you can sneak-peek them here).
But wow — those watery views. Pull up a chair at the Cabana and survey both pools. Choose between the large lap pool that's heated seasonally, or the zero-entry pool. The spacious pool deck is dotted with palm trees and tropical landscaping. And that constant splashing you hear?
Glance toward Lake de Bonmont on the opposite side of the Cabana. The large fountain spraying in its midst contributes soothing white noise, and its size and ripply sounds contribute a soothing backdrop.
Need we say that sunsets over the lake are a fabulous backdrop for enjoying Cabana evenings?
The perfect weekend perch
What's not to like about a cabana?
By strict definition, it's a covered, open-air structure by a pool or beach.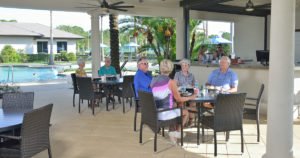 Plantation Bay residents are only 10 minutes west of gorgeous Atlantic coast beaches, but sometimes a day in the water doesn't need to include sand.
Sun and swim poolside. Then, beginning at 11 a.m., on Thursdays through Sundays, grab a bite to eat or cooling libations to sip at the Cabana bar. Live poolside entertainment also takes place here, including music and karaoke, among other offerings.
There's one more entertainment option at the Cabana — chilling by the fire pit. Pull up a chair and toast those spectacular sunsets over Lake de Bonmont and Plantation Bay's pools. Roast homemade s'mores year-round.
Enjoying those watery views works up an appetite!
Ready for your Plantation Bay lifestyle? Talk to us here.