Water is everywhere when you live near the Florida coast. Residents of Plantation Bay Golf & Country Club are a mere 10 minutes west of Atlantic Ocean saltwater, but sometimes there's nothing like a sparkling freshwater swimming pool.
This master-planned community in Ormond Beach delivers the latter in spades.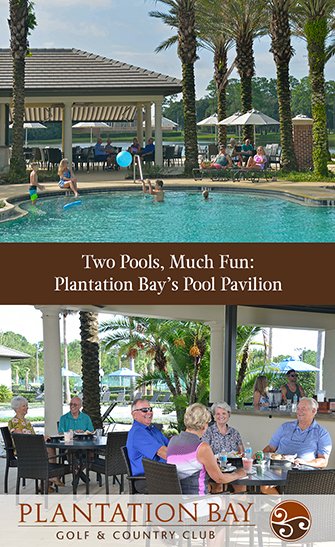 Its pool pavilion — part of a Wellness Center that also offers a full-service spa and fitness center — is only steps from either activity area, and is a great place to cool off or while away a few hours.
The location is superb. Designers didn't stick the Plantation Bay pool pavilion in back of a massive parking lot. Instead, it commands its setting, overlooking the community's Lake de Bonmont and the lake's picturesque, spewing fountain.
Later in the day, that expansive view often includes spectacular sunsets or perhaps a happy hour meet-up with fellow Plantation Bay residents at the poolside Cabana.
The pool pavilion can anchor an entire day — from workouts to play time, from quiet time to social times. Here's how Plantation Bay's pools serve up much fun.
First, the pools
Enjoying those refreshing bodies of water is the primary reason most of us think of when we declare a pool day, morning or afternoon. Whether you're cooling off, splashing with the kids or grandkids, or swimming laps, Plantation Bay's pools can accommodate all those pursuits.
And yes, there are two pools, not one. They're side-by-side on the pool pavilion with a walkway between them.
The lap pool features lane markers and plenty of room for several swimmers to get in their cardio workout simultaneously. This pool is heated during cooler weather, which means year-round lappers don't have to go on hiatus until spring.
The free-form pool features zero-entry access at one end. It hosts water aerobics classes at 10 a.m., on Mondays, Wednesdays and Fridays.
Comfort is also king at the Plantation Bay pool pavilion. Corral a comfy lounge chair, spread your towel, ready your book, drink or crossword puzzle, and enjoy the Florida sunshine — or watery fun and games with family, friends or neighbors.
Speaking of the social aspect…
The Cabana at the pool pavilion
Plantation Bay's Cabana is a poolside oasis. The covered, open-air structure incorporates a bar with food and beverage service, more comfy chairs and tables, plus cooling ceiling fans.
Food service is available Thursday and Friday from 11 a.m., until 4 p.m., and from 11 a.m., until 5 p.m., Saturday and Sunday. Beverage service is available Thursday through Sunday from 11 a.m., until 7 p.m.
Live entertainment is another Cabana perk. Fun music usually spins in the background, but on most Sundays, some Saturdays and holidays, Plantation Bay residents can groove to live music and vocals from a variety of genres. Comedy and karaoke make appearances too!
Ready for your Plantation Bay lifestyle? Talk to us here.