What's one (of many) iconic experiences about Florida living? Enjoying an oceanside pier. Plantation Bay Golf & Country Club residents — and those soon to be — are in luck. One of Florida's historic Atlantic-coast wooden piers is less than 10 miles from your Ormond Beach community and offers more activities than a mere photo op.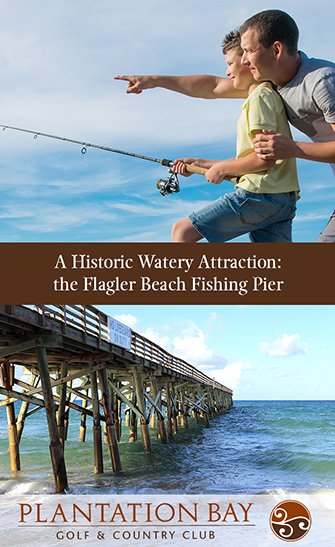 The Flagler Beach Fishing Pier attracts fishing enthusiasts, photographers, passersby, vacationeers and even those seeking a memorable meal. It's one of Flagler Beach's signature images and a major reason the municipality is known for its relaxed old-Florida vibes.
Whether you love saltwater fishing, taking photos or simply walking out over the gorgeous Atlantic Ocean, your first visit to the Flagler Beach Fishing Pier likely won't be your last.
Here's more on this historic watery attraction so close to Plantation Bay.
How to get there
The most direct route is to exit Plantation Bay's main entrance and head north on Interstate 95 (a whopping 13 minutes and 9.6 miles!).
Take Exit 284 (Bunnell-Flagler Beach exit) and head east on State Road 100. It ends at A1A, Florida's Atlantic coast highway, in Flagler Beach.
Turn right (south) on A1A (also known as Ocean Shore Boulevard) and you'll see the pier on your left, across from South 3rd Street.
Free parking can be found in small city lots and in spaces along the north side of A1A.
Or, forego the interstate for the scenic route, which deposits you on A1A south of Flagler Beach. Drive north until you spot the pier on your right.
About that pier…
The Flagler Beach Fishing Pier opened in 1928. It's 806 feet in length and features safety railings all the way around, benches and amazing scenery.
The pier is open each day from 6 a.m., until midnight. It's the hub of beach activity in Flagler Beach and used as a central landmark. The pier's mid-20th-century A-frame entrance is another unique attribute.
It costs $1.50 to walk the pier and $6 a day if you're baiting hooks. There's a separate fee schedule for fishing. If you find yourself returning to the pier regularly, buy passes on a monthly, three-month, six-month or annual basis. There's special pricing on passes for active and retired military personnel, and senior citizens. Family passes also are available.
Pay fees at the Flagler Beach Pier Bait, Tackle and Gift Shop at the pier.
How to enjoy the Flagler Beach Fishing Pier
We've already dropped the photography and fishing suggestions. The pier also is a great spot to watch surfers; the area around it is a surfing favorite.
The Flagler Beach Ocean Rescue headquarters is on south side of the pier. Depending when you're there, you might see lifeguards conducting a training session.
Here's a tasty suggestion: the Funky Pelican restaurant on the pier's north side serves breakfast, lunch and dinner and features an outdoor deck.
Ready for your Plantation Bay lifestyle? Talk to us here.