Want to a cast line? Launch a non-motorized personal watercraft or a small fishing boat? Plantation Bay Golf & Country Club residents are less than six miles from the Atlantic Intracoastal Waterway and Atlantic beaches, where fishing and boating options abound.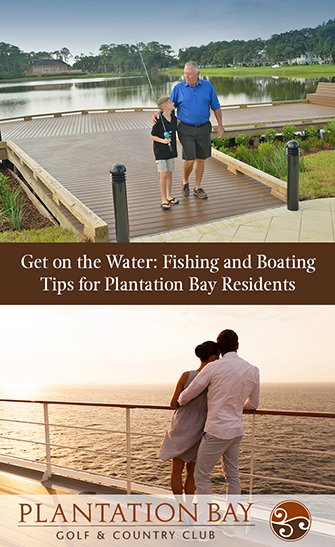 Marinas, bait shops and boat ramps are seemingly everywhere in this slice of east central Florida, so we at ICI Homes are happy to point the quickest route to salt and freshwater fun.
If you're a Plantation Bay resident, you know your community is filled with beautiful bodies of water. Pocket parks contain picturesque ponds and fountains. Lake de Bonmont is a signature feature. Water hazards punctuate Plantation Bay's 45 holes of golf.
However, if you're trolling for bass, going crabbing or eager for some long-distance kayaking, you'll have to road-trip (gasp) those few miles east.
Never fear! You're headed for beachside beauty and watery serenity. And, if you bring home dinner, that's a bonus!
Here are fishing and boating tips for Plantation Bay Residents.
Where you're going
The quickest ways to get on the water involve a state park and a Volusia County park. Even easier, they're located across the road from each other, an outdoor-recreation and nature enthusiast's dream.
To get there, exit right out of Plantation Bay's main gate onto Old Dixie Highway. Go approximately 1.4 miles, then turn left on Walter Boardman Road. Follow it to High Bridge Road; turn right. Once you cross the drawbridge over the Intracoastal Waterway, you've arrived.
Look for North Peninsula State Park on the left, and High Bridge Park on the right.
The Atlantic Ocean is a short distance ahead, where High Bridge Road ends at A1A, Florida's Atlantic coast highway.
Let's explore the two parks for fishing and boating purposes.
High Bridge Park
Small but mighty — it packs the necessities into one acre — this county park sits on the south side of High Bridge Road.
It offers a boat ramp, bait shop, restrooms, picnic tables and spots to cast a fishing line from the banks of the Intracoastal (also the Halifax River). There's also a launch area for non-motorized personal watercraft such as kayaks, canoes and paddleboards.
If you're keen on casting from a different location, a fishing pier circles under the drawbridge. It's a great spot for fishing and boating!
North Peninsula State Park
On the north side of High Bridge Road, across from High Bridge Park, is North Peninsula State Park. It's larger — 557 acres — and incorporates three miles of pristine beach, a two-mile hiking trail, parking and other facilities for beachgoers and fishing and boating enthusiasts.
Turn left off High Bridge into its Smith Creek Landing area. This is an excellent area to drop non-motorized personal watercraft and to fish from the Intracoastal's banks. The Landing area also offers infographic displays and views of a long-term, salt-marsh restoration project near adjoining Smith Creek.
Ready for your Plantation Bay lifestyle? Talk to us here.