There's never a shortage of outdoor recreational options for Plantation Bay Golf & Country Club residents. The community's size, location and amenity menu offer nonstop fun, yet here's another recreational activity to add to your agenda: horseback riding on the beach.
No, you can't saddle up in Plantation Bay, but you can along one of the beautiful, unspoiled Atlantic beaches nearby.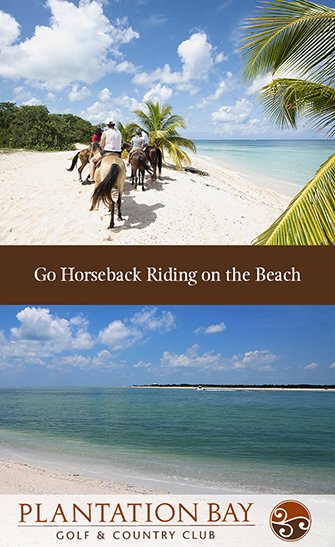 We say "beaches" because as east central Florida's premier master-planned community and one of ICI Homes' signature developments, Plantation Bay actually boasts several hometowns.
The closest, Ormond Beach, is on your address. Its beaches are closest to Plantation Bay — a scenic 10-minute drive west. Plantation Bay's second hometown, Flagler Beach, is only a few minutes north of Ormond Beach. And, only a few minutes beyond Flagler Beach is Palm Coast, another Old Florida beach town with a distinct personality and beauty.
All are fun, quintessential Old Florida towns with cultural, arts and dining scenes, but it's between Flagler Beach and Palm Coast where you can enjoy horseback riding on the beach.
Let us show you how.
First, find Flagler Beach
Because Plantation Bay is conveniently located near Interstate 95, Florida's north-south artery, it's a quick trip north to Flagler Beach — like 15-minutes-and-10-miles quick. All you have to do is exit Plantation Bay's main gate and take Interstate 95 north. Use Exit 284 and turn right on State Road 100.
Head east for approximately three miles and cross the Atlantic Intracoastal Waterway. State Road 100 ends at the traffic light at A1A, Florida's north-south Atlantic coast highway.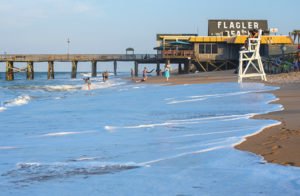 Turn right or left for free beachfront parking, and to explore the historic Flagler Beach Fishing Pier and downtown Flagler Beach.
To find your trusty beach steed, however, you'll need to book a reservation in advance, then follow directions north on A1A toward Palm Coast, to meet the folks at Equestrian Adventures of Florida.
Horseback riding on the beach
Equestrian Adventures of Florida specializes in horseback riding experiences in east central Florida. One of those is riding on Flagler County's gorgeous red-gold sands.
Never ridden a horse? Never fear. The stable's human and equine pros will help you have a fun, safe and selfie-worthy adventure. It's a beach walk unlike any other as you and your mount traverse the Atlantic shoreline with other riders and guides from Equestrian Adventures of Florida.
Be mindful that advance reservations are a must. The rides take place at low tide, so be ready to ride according to nature's daily calendar. Also, sign the necessary waivers. And feel free to ask Equestrian Adventures of Florida staffers any questions about a ride.
Other riding experiences
Beach riding not your thing? Equestrian Adventures of Florida offers rides on equestrian trials at nearby state parks, and along nature trails in the region. Riding lessons and customized rides also are available.
Ready for your Plantation Bay lifestyle? Talk to ICI Homes here.