Plantation Bay Golf and Country Club residents love their hometown of Ormond Beach, Florida. From fun dining spots, to wide, uncrowded Atlantic beaches, Ormond Beach offers much to love.
John D. Rockefeller thought so too. The oil-industry titan purchased his winter getaway home, The Casements, only two blocks from the beach, in 1918 and wintered there until his death on May 23, 1937. It continues its welcoming ways as a community cultural center today.
Ormond Beach remains a coastal gem — think salty breezes, ancient oaks and palms — but if you're seeking a new Florida home with a golf and country-club lifestyle, Plantation Bay residents actually can claim TWO spunky, thriving beach towns as their hometowns.
While Ormond Beach is eight miles from Plantation Bay, the town of Palm Coast is only a 20-minute drive northeast. Here's what you can enjoy in Plantation Bay's other hometown!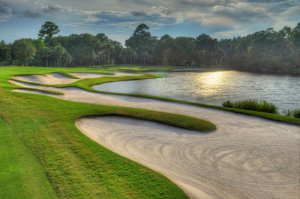 Shopping and Dining
Poke around for locally owned antique shops, art galleries, boutiques and artists' studios. Lots of talented, creative folks call this laid-back coastline home. For the brand-name stalwarts and major services such as grocery and department stores, Palm Coast has it covered in two convenient locations along State Road 100 and Palm Coast Parkway — both super-easy exits off I-95.
Need to eat? Palm Coast-area dining can be as casual as a basket of freshly cooked local shrimp or as involved as aged steaks and serious wine. Fun beach bars dot Florida's coastal highway, AIA, just east of Palm Coast proper. Sample freely!
Watch the sunrise over the Atlantic Ocean with a steaming cuppa from a local coffee house, then toast the sunset over the Atlantic Intracoastal Waterway from a restaurant's dockside tables.
Yep, you can do all that.
Activities
The City of Palm Coast offers a Trek It Out map that will guide you through 26 miles of hiking, biking, walking, running — and equestrian — excursions along an amalgam of paved, graded and boardwalk trails that are linked, in many cases, throughout the area.
Palm Coast maintains five bicycle maintenance stations; locations are included on the map, which can be picked up at eight spots around the city or downloaded as a PDF. Hint: several of the above trails are on the Great Florida Birding Trail.
The Intracoastal borders Palm Coast to the east, offering kayaking, pleasure boating and fishing opportunities. Visit historic Marineland to commune with dolphins and other sea life.
The Beach
We will say more! Beaches in the Palm Coast area are grand unspoiled, uncrowded beaches. If beaches — and quick access to them — are a factor in choosing your Plantation Bay home? You've hit the jackpot! Not only are Plantation Bay residents less than 10 minutes from Ormond Beach's soft white-gray sands, a few more minutes north lie 19 miles of ginger-tinged Palm Coast beaches. The gingery-reddish steaks you see in the sand are microscopic grains of coquina, a shell-dotted limestone common off the northeastern Florida coast. The sounds you'll hear will be waves slapping, seabirds chortling and surfers wiping out. Not noisy swimming-pool patrons and someone else's boom box. You can even trek to one of those beach bars.
Ready to adopt two new hometowns? As Florida's Custom Home Builder, ICI Homes is the Plantation Bay specialist. Click here to learn more.