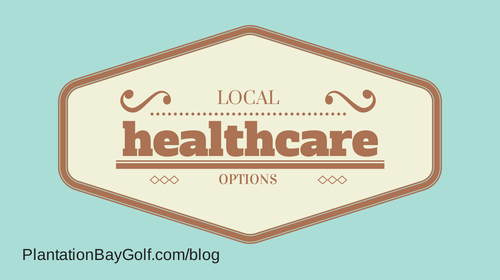 Plantation Bay residents have unparalleled access to some of the best healthcare options in all of Florida.
The community is literally surrounded on three sides by the best, biggest, and most state-of-the-art hospitals you could ask for.
Immediately south you will find two excellent hospital systems and a great VA clinic. Then, as if those options weren't enough, there are also great hospitals located both to the north and to the west of the community.
Regardless of your medical history, you can feel comfortable that the following facilities are capable of treating just about anything you could possibly throw at them:
Halifax Health Medical Center
The Halifax Health Medical Center contains the largest emergency facility in the entire state of Florida, and this state-of-the-art facility is located about 25 minutes from Plantation Bay. In addition to being leaders in emergency medicine, they also specialize in Cancer, Heart, Neuroscience, and Orthopedic Care.
The hospital has a deep history that dates all the way back to its opening in 1928. Since that time, it has seen an unbelievable amount of medical advancement. There have been many renovations and expansions to the hospital over the years, with the most recent being the addition of a 10-story inpatient tower that was opened in 2009.
Florida Hospital Memorial Medical Center
Another excellent healthcare option that is located near Plantation Bay is the Florida Hospital Memorial Medical Center. This hospital is actually two facilities: there is a primary hospital located in Daytona Beach, and also a smaller facility that is even closer in Ormond Beach. Each of these facilities places strong focus on cardiology, oncology, obstetrics, neurosurgery, and stroke care.
The Florida Memorial facilities are both equipped with emergency room operations, state-of-the-art imaging and laboratory facilities, and the capabilities to perform a wide range of surgeries.
William V. Chappell, Jr. VA Satellite Outpatient Clinic
If you are a veteran, the nearest VA clinic is also located in Daytona Beach. The William V. Chappell, Jr. VA Satellite Outpatient Clinic is about a 20-minute drive from Plantation Bay. Here, they perform a wide range of outpatient services including basic medical care, dental care, some outpatient surgery, and psychiatric care. With their ability to handle everything from routine physical therapy all the way up to minor surgeries, this is the first stop for many local veterans.
Specialized Care & Second Opinions
If you are looking for specialized care for a particular issue or would just like to hear a second opinion from someone outside of the local healthcare community, there are also fantastic hospitals located in nearby Jacksonville and Gainesville.
The Mayo Clinic is a beautiful, first-class facility located only an hour away in Jacksonville. Shands Hospital in Gainesville is less than two hours from Plantation Bay, and their services include access to the entire University of Florida Health System network.
Whether you are looking for sophisticated treatment for a serious health issue, planning to have a standard hip replacement surgery, or just looking for a prescription to beat the flu, you can relax knowing that the excellent healthcare systems located around Plantation Bay are going to take the best possible care of you and your family.