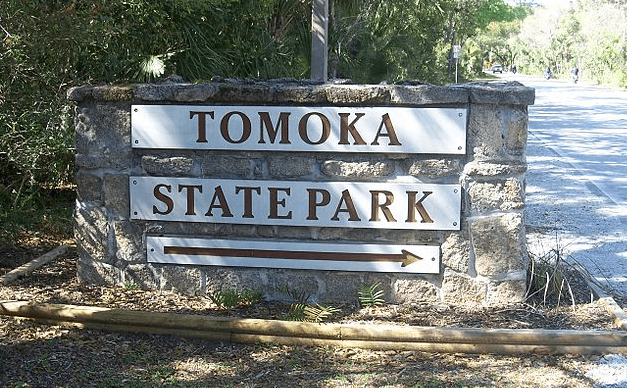 Located just 15 minutes from Plantation Bay, Tomoka State Park provides local residents with all the natural amenities one would expect from a state park, only this one is right in your own backyard.
The park is a natural peninsula, created by the Tomoka River and the Halifax River. It offers a wide range of amenities, including boating and fishing facilities, camping and picnic facilities, a nature trail, and a museum.
The park also provides a refuge for a wide variety of local wildlife like manatees, alligators, and over 160 different types of birds.
Park History
The area that comprises Tomoka State Park was originally an Indian village called Nocoroco. The riverbank is filled with huge mounds of oyster and snail shells that are the remnants of meals that date as far back as the Timucua Indians of Nocoroco.
During the 1920s and 1930s, the Tomoka area was referred to as Sunset Park. People would come to the park from nearby towns to enjoy the park. Park amenities at that time were simpler, but still revolved around basic nature activities like swimming, boating, picnicking, and wildlife watching.
The area became a state park in 1945 and shortly after that, the park began to see some development. One of the major additions to the park was the concession stand that was built in 1965. This building served as a local restaurant for many years, and has always been a place where fishermen gathered to exchange stories.
Another big addition to the park was the Legend of Tomokie statue, which was sculpted in 1954 and 1955 and then dedicated in 1957. The statue represents an ancient Indian chief and is intended to remind visitors of the Timucua people, who lived in the area long before any Europeans.
Park Amenities
As with any state park, camping and picnicking are the most popular activities at Tomoka State Park. There are five different picnic pavilions scattered throughout the park that can accommodate 24-36 people. The pavilions are all within close proximity to grills and restroom facilities, and they can be reserved in advance for parties, family reunions and the like.
The park has 100 campsites that all feature full hookups with water, picnic tables, and a grill. The campsites also offer access to restroom facilities and hot showers. There is also a youth group camping area that can accommodate groups of up to 35 people.
Boating enthusiasts and fishermen will also find plenty of options at Tomoka State Park. There is a boat ramp that provides access to the Tomoka River for recreational boating and fishing. Because the area is a designated manatee sanctuary, slow speed zones are strictly enforced in the park.
Anglers will discover that the Tomoka River is home to more than 90 difference species of fish, including red drum, black drum, sheepshead, spotted sea trout, common snook, and tarpon.
Another popular attraction that the park has to offer is its half-mile long nature trail. This trail provides excellent opportunities for wildlife viewing, particularly in the winter months when many species of birds have migrated south.
Located at the north end of the park near the boat ramp and concession stand, visitors can explore the Fred Dana Marsh Museum. The museum is open every day from 9:30 am to 4:30 pm and it contains the work of local artists, as well as historical exhibits that detail the ecology and history of the park.
Tomoka State Park offers local residents the opportunity to retreat to a natural environment that is well maintained and close to home.
Boaters, campers, picnickers, fishermen, and wildlife enthusiasts all have something to be interested in at this fantastic park that is right down the road from Plantation Bay.
Image via Wikimedia Commons