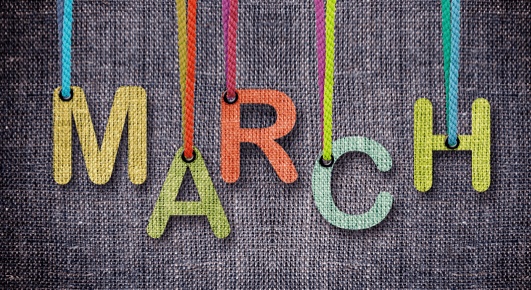 The month of February is coming to a close, and the month of March will be here before you know it. That means we are all getting one-step closer to spring!
In the spirit of the coming spring, the activities calendar at Plantation Bay is filled with another fantastic assortment of events. Whether you are looking for golf tournaments, St. Patrick's Day festivities, great food specials, or simply something to do on a Saturday Night, you can certainly find it on the Plantation Bay activities calendar.
Here are some of the highlighted events that members will be looking forward to this March:
The Big Events
The first big event that is planned for the month of March will be the Ninth Annual Art Exhibition and Sale, which will be presented by the Plantation Bay Artists. This event will be held at Club de Bonmont from 1:00 pm to 4:00 pm on Monday, March 10. The art show is open to residents and guests. It will contain displays of a wide variety of art that includes watercolors, photography, sculpture, acrylic, and graphics. Many of the featured pieces will be artistic depictions of Plantation Bay. In addition to the artwork, the event will also be serving a lunch that will be available from 11:00 am to 3:00 pm.
Perhaps the biggest event at Plantation Bay in the month of March will be the St. Patrick's Day/Birthday Night Dinner Dance held at Club de Bonmont from 6:00 pm to 10:00 pm on Saturday, March 15. This festive party will feature a buffet serving traditional Irish cuisine like carved corned beef, cabbage & potatoes, roasted vegetable lamb stew, and baked cod with a water cress leek sauce. Dinner will be followed with live entertainment from Phil Farino. Ticket prices are $24, and reservations can be made by calling 437-4844 ext. 16 or 17.
The next dinner party hosted at Club de Bonmont will be a Tour of Italy held on Tuesday, March 25. This dinner will start at 5:00 pm and be serving Italian food in stations. Dinner will be followed by live entertainment. Reservations can be made by calling 437-4844 ext. 13 or 16.
The final dinner part of the month will be a Dinner & Karaoke Night on Saturday, March 29. This event will also be held at Club de Bonmont. Guests will be able to order from an a la cart menu, and dinner will be followed by karaoke with DJ Mondo. Reservations can be made by calling 437-6664 ext. 26 or 437-4844 ext 16.
The Active Events
While golf is a year round obsession at Plantation Bay, March tends to be the month where that obsession ramps itself up to a new level. While there are quite a few league events scheduled for the month of March, the big event is going to be the Irish Open Mixed Event. This mixed tournament is scheduled for Sunday, March 16.
If tennis is your sport, you won't want to miss out on the USPTA Champion of Champions Team Competition that is going to be held on March 1. This team event gives you the opportunity to pair up with a partner of equal ability and represent our club. For more information, contact Dave Brown or just show up at one of the team practices.
The Tuesday Dinner Specials
The month of March is also going to bring another slate of fantastic Tuesday night dinner specials at Club de Bonmont. On Tuesday, March 4, the club will kick off the month with the theme of Family Favorites. That will be followed with Prime Rib on the following Tuesday, and then Snow Crab legs on March 18. The final Tuesday of the month is scheduled to be the Tour of Italy special that we already highlighted.
As you can see, there is plenty of food, activity, and entertainment available at Plantation Bay during the month of March. Which events are you most excited about?