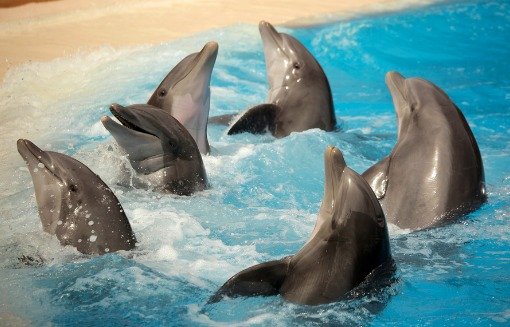 One of the most popular excursions on many Caribbean vacations is the opportunity to swim with dolphins. Plantation Bay residents are fortunate to have that same opportunity available right in their own back yard!
Located just 30 minutes north of Plantation Bay, Marineland Dolphin Adventure bills itself as "The World's First Oceanarium." The facility contains more than 1.3 million gallons of water across multiple dolphin habitats that visitors can view from above the water or through the large underwater observation windows.
Marineland Dolphin Adventure has always been a great place to see and interact with Atlantic Bottlenose Dolphins, but that experience has become even more exciting ever since a 25-year-old dolphin named "Dazzle" gave birth to a baby dolphin calf earlier this year.
While the new baby dolphin is not always available to be seen by the public, many visitors have already been thrilled when catching glimpses of the baby interacting with its mother. As the baby dolphin continues to grow, it is expected to become more and more involved in regular Marineland activities.
Dolphin Encounters
There are reasonably priced general admission tickets that give you the option to view the rest of the dolphins at your own leisurely pace, but where Marineland Dolphin Adventure really gets interesting is when you participate in one of their Dolphin Encounters. These encounters can include everything from simply touching and feeding the dolphins to actually putting on a wet suit and swimming along side the dolphins.
If you are just getting your feet wet with the dolphin experience, a great way to get started is with the Touch & Feed encounter. This experience allows you to stay on dry ground while still getting close enough to touch and even feed one of the dolphins. Another great option to get started is the Dolphin Designs encounter where you and a dolphin will collaborate on creating an original painting that you can take home with you.
When you are ready to actually get into the water, the next step up is the Discover Dolphins encounter, which is a shallow water experience that lets you get comfortable with interacting face-to-face with the dolphins.
The next step after that is the Immersion encounter, where guest are actually able to swim with the dolphins in the deep-water areas. If all of these encounters leave you still wanting more, Marineland also offers guests the ability to participate in their Trainer For A Day Program to experience first hand what might be the coolest job in the world.
If you are curious about how the entire Marineland operation works, there are also Behind the Seas Tours available that will take you through the entire facility and explain what goes on below the decks and how the day-to-day life works at Marineland.
Grab Dinner at Captain's BBQ
Your trip to Marineland will take you up A1A through Palm Coast, so stopping at Captain's BBQ on your way back will be the perfect way to complete your day of adventure. The views from the outdoor seating here are absolutely stunning, and the BBQ is some of the best you will find. Don't worry if you're dressed casual from your dolphin adventure, Captain's BBQ has a very relaxed environment, so you will fit right in!
Even with a relaxing waterfront dinner at Captain's BBQ, this will be a relatively short day trip for Plantation Bay residents because Marineland is so close to home. That's even more reason to make it a point to visit the new baby dolphin and experience one of the Dolphin Encounters. If you've ever thought about swimming with dolphins, this is the place to make it happen!