If you live at Plantation Bay Golf & Country Club, you're in a prime location for exploring Florida's Atlantic Coast. The community's Ormond Beach location means Plantation Bay residents are never more than 15 minutes and approximately six miles from the actual beach.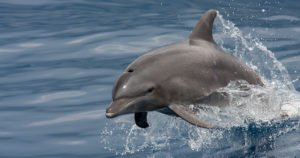 Need directions to the beach? Firstly, turn east out of the main entrance onto South Dixie Highway. Take a left on Walter Boardman Lane, then turn right on High Bridge Road. Carefully follow its curves, cross the drawbridge, and within a minute or two, you'll see the Atlantic Ocean.
Head south on A1A — Florida's Atlantic Coast highway — to Ormond Beach and the Daytona Beach area. Or, north on A1A to Flagler Beach, St. Augustine, and Jacksonville.
Today, we're headed North to St. Augustine. We invite you to enjoy a classic Florida beach experience: Marineland Dolphin Adventures. More familiarly known as Marineland, it's a historic ocean-front aquarium that was founded as an underwater filming site for movies. It once featured dolphin shows, and today, is a state-of-the-art, dolphin-interaction attraction.
Here's why you should experience Marineland, one of Florida's historic attractions.
A Hollywood studio turned tourist destination
Marineland is located approximately 23 miles and 30 minutes north of Plantation Bay on A1A, between the Matanzas River and the Atlantic Ocean.
Opened in 1938, it's now on the National Register of Historic Places. Marineland began as a place to film underwater scenes for the entertainment industry. Scenes shot there appear in numerous movies, perhaps most notably the 1954 classic, "Creature from the Black Lagoon."
Gradually evolving to an attraction, Marineland became most famous for its daily dolphin shows and exhibits of marine wildlife. It thrived through the 1960s before enduring several decades of decline amid changing tourism tastes.
Following extensive renovation and construction of new facilities in the early 2000s, a new Marineland opened in 2006. Designed for dolphin interactions, research and visitor viewing, the new facility spans 1.3 million-gallons.
Marineland was later acquired by the Georgia Aquarium in in 2011. It's now an entertainment go-to for dolphin-human interactions, programs, tours and special events.
How to enjoy Marineland
Firstly, you'll notice the original arched entrance. Marineland is right on the beach — the vast Atlantic glistens to its east. So, the setting is perfect for interacting with its resident dolphins and tortoises.
Atlantic bottlenose dolphins are the featured species, but you'll also see other marine life. For example, fish, octopuses, sharks, and so on.
Swimming with dolphins, tailing their trainers for a day, and behind-the-scenes tours are a sample of Marineland visitor experiences. Educational programs and seasonal day camps for kids are available, as well as sailboat, kayak and boat tours, and art workshops.
You can even have a Marineland dolphin or tortoise paint a piece of art for you!
Ready for your Plantation Bay lifestyle? Talk to us here.