Plantation Bay Golf & Country Club offers a lot of great reasons to build or buy a new custom Florida home here. It's one of ICI Homes' signature properties in east central Florida, and now it features one of the hottest resident amenities anywhere — new pickleball courts.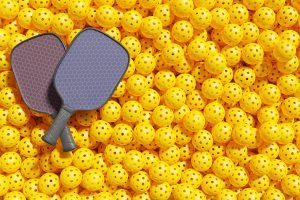 Pickleball could be the hottest sport going. No master-planned community within earshot has doubled down on its popularly like Plantation Bay, where four existing courts combine with six new ones to give Plantation Bay residents a 10-court facility.
All in one community. Try topping that in your search for a new custom Florida home!
If you're keen on pickleball and love having an expansive choice of jaw-dropping amenities, Plantation Bay's your place. Read on for more.
About those new courts
Plantation Bay's existing four courts already were immensely popular. They (and the six new ones) are located near the Wellness Center, which serves as Plantation Bay's amenity hub.
The Wellness Center includes a fitness center, a full-service spa, two resort-style swimming pools with a cabana bar, and, just outside, basketball, bocce ball, tennis, and those pickleball courts. And, that's without mentioning 54 holes of golf, two clubhouses, hopping social and dining scenes, and plenty of sidewalks and fitness paths.
With the Wellness Center's existing pickleball courts seemingly always in demand with league and impromptu match play, construction began earlier this year on the six new courts. Upon completion, they debuted with a covered walkway to all the courts and a covered sitting area.
The other plus about playing pickleball at Plantation Bay? The community is super-close to Pictona, a major facility in nearby Holly Hill.
Pickleball central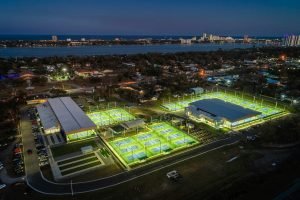 Pictona is combination of the words "pickleball" and "Daytona," and it's a pickleballer's paradise.
It's located north of Daytona Beach, in the city of Holly Hill, on the site of a former Holly Hill city park. Plantation Bay's hometown of Ormond Beach is just north of Holly Hill, which means a quick commute when Plantation Bay pickleballers enjoy play outside their own community.
To get there, exit Plantation Bay's south gate via Aldenham Lane. Turn left (or south) on U.S. Highway 1 and literally stay on it for approximately 10.5 miles. Once you're within the Holly Hill city limits and see the Magnolia House Antique Village on your right, get that turn signal ready. Pictona will be just past it, on your right, at 1060 Ridgewood Avenue.
Pictona offers 49 courts, including 13 covered courts. There's also a pro shop, senior center, community garden, table tennis club, men's and women's locker rooms and showers, and a restaurant on the premises. The complex hosts community events, tournaments and summer camps for junior pickleballers, among many other activities.
Pictona was founded as a public-private partnership between a group of local pickleball enthusiasts and Holly Hill city leaders. The first courts opened in summer 2020.
Read for your Plantation Bay lifestyle? Talk to ICI Homes here.