Are you a Plantation Bay Golf & Country Club resident who'd love to recommend it to other people? Perhaps the reverse is true and you're considering a new custom Florida home here, but would like to learn more. We at ICI Homes can share how to do all of that.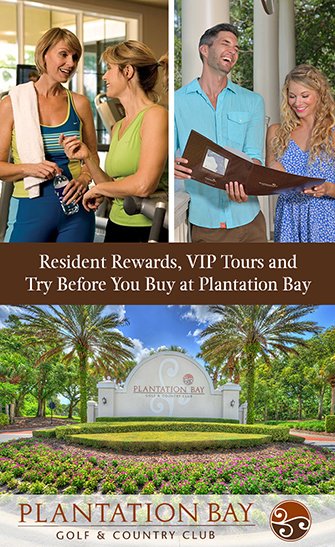 Read on for more on Resident Rewards for our current residents, and VIP Tours and Discovery Tours (our Try Before You Buy program) for prospective residents.
Let's begin with the recommendation part. It's called Resident Rewards, and if you've ever wished you could pick your neighbors, now's your chance! You can do it AND be rewarded for it.
Simply refer someone to Plantation Bay's ICI Homes sales associates. If your referral buys a new ICI Homes home, you get a one-year Plantation Bay fitness membership — absolutely free.
Pretty cool, right?
In the meantime, if you're NOT a Plantation Bay resident but would like to become one, or would like to learn more about the community, we've got the details on those topics too.
Resident Rewards
Recruiting friends, family members or co-workers to buy the new home or home site next door depends on where you live in Plantation Bay.
If you're a newer resident in one of our newer phases, you naturally have a much better chance of inviting people you know to move to your street. If you've lived here a while and your street is built out, no worries. Plantation Bay's newer phases are only minutes away via a quick bicycle or golf-cart ride, which means friends or family members still can become new neighbors.
To earn your Resident Rewards, complete the digital form here and send it to Plantation Bay's sales center. Your other option is to accompany the folks you're referring to the sales center on their first visit.
You'll receive your complimentary fitness membership after they close the sale on their new home. And, if you already enjoy a fitness membership here, you'll receive an equal-value reward credited to your club dues.
VIP Tours
The best news is you can do this virtually or in-person.
Either way, an ICI Homes sales associate will introduce you to the community during a VIP Tour, describing Plantation Bay's prodigious amenities, resident activities and recreational offerings. You'll hear about its hometown, Ormond Beach, and the entertainment, shopping and services options in the greater Daytona Beach area.
Tour furnished models, examine new neighborhoods, and take your time browsing our tremendous selection of floor plans and customization possibilities.
A VIP Tour is a wonderful introduction.
Try Before You Buy
Want to live the Plantation Bay lifestyle before you buy? Our Discovery Tour shows you how. We've paused it to heed current health protocols, but get on our waiting list now to be among the first to schedule your Discovery Tour when they open up again.
Once tours resume, you'll sample activities and amenities, meet Plantation Bay residents, and generally enjoy this signature master-planned community. You'll stay for two nights and three days in one of our private villas. Packages begin at $599 per couple.
Ready for your Plantation Bay lifestyle? Talk to us here.