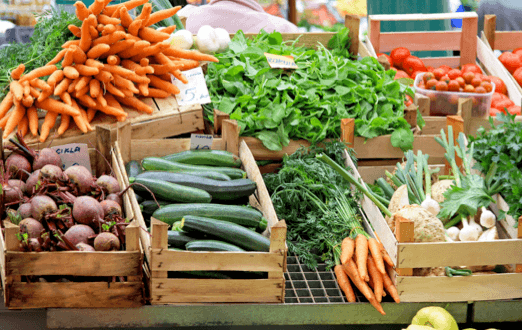 Florida is a great state for farmers to grow many types of produce that simply couldn't survive further north. That means that the farmers markets around Plantation Bay are always packed full of great produce.
Buzzwords like "organic" and "farm-to-table" have really created quite a stir around the country in recent years. People are more concerned than ever about the quality of the food they are consuming, and many are going far out of their way to purchase better quality products.
Plantation Bay residents don't have to go very far at all to find high-quality food products because they are literally surrounded on all sides with great farmers markets where they can purchase a wide variety of fresh, organic produce, as well as fresh caught wild seafood, grass-fed beef, and other healthy alternatives to the foods they are able to buy in supermarkets.
Here's a look at a few resident favorites:
Ormond Beach Farmers Market
The closest opportunity for Plantation Bay residents to purchase farm fresh foods is the Ormond Beach Farmers Market. This quaint little small town market is held every Thursday morning from 8:00 am to 1:00 pm in City Hall Plaza at the west end of the Granada Bridge.
This market focuses on fresh grown produce like radishes, cabbage, sweet potatoes, lettuce, and kale. There are also lots of fresh fruits and Florida citrus. Some popular vendors here include Rick's Verde Greens, who sells fresh juices, and We Be Jammin, who sells creative jams and jellies like their Orange and Chili Pepper Jam.
In addition to the great produce vendors, the Ormond Beach Farmers Market also welcomes vendors selling everything from Florida shrimp to roses and orchids to organic beauty products!
Daytona Beach Downtown Farmers Market
If you are willing to venture out a bit further from home, the Daytona Beach Downtown Farmers Market takes place every Saturday morning from 7:00 am to 1:00 pm. While this market is a bit further away from Plantation Bay, it is still only a 20 minute drive, and the amount of vendors here will make it well worth your time.
The Daytona Beach Downtown Farmers Market features at least ten different fresh produce vendors. They also have a great selection of fish and meat vendors, as well as other grocery and prepared food vendors. Some of the most popular vendors include Gainey's Beef & Pork BBQ, Macker Seafood, Tomazin's Fresh Farm, and Sam & Shannon's Produce.
The Pavilion at Port Orange Farmers Market
Another great local farmers market is The Pavilion at Port Orange Farmers Market. This market is located on South Williamson Boulevard in Port Orange and is open every Saturday morning from 9:00 am to 1:00 pm.
Some of the popular vendors here include Laughing Rabbit Farms Microgreens and Perrine's Produce. You will also find fresh honey from Biggers Apiaries and some of the most unique cutting boards you have ever seen from Vermont Treebones!
Daytona Flea & Farmers Market
If you are looking for a bigger market with more vendors that is also open longer hours, the Daytona Flea & Farmers Market is the place for you. This huge operation is located on Bellevue Avenue in Daytona Beach and is open from 9:00 am to 5:00 pm every Friday, Saturday, and Sunday.
While you will have to deal with large crowds of shoppers, there are literally hundreds of vendors to pick from here selling everything from fresh produce to homemade guitars.
As you can see, there is no shortage of opportunities around us to purchase the best quality local produce, meats, and seafood. The next time you are looking for fresh produce, make sure you check out one of these great local farmers markets!