Is retirement around the corner or looming for you or a family member?
Did it sneak it up on you?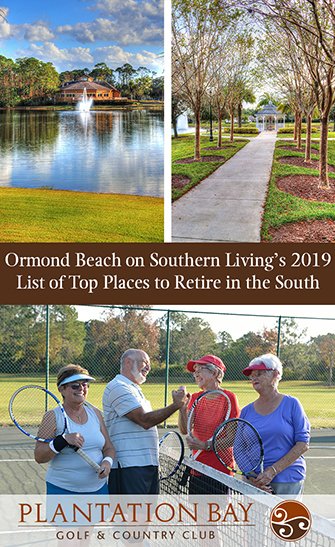 Maybe you've been eyeing it for a while, telling everyone, "When I retire, I'll do X, Y and Z."
Or, maybe you have the freedom to say, "Right now's the time. Let's go!"
No matter which scenario applies, we at ICI Homes have a peach of a place in the Sunshine State — Plantation Bay Golf & Country Club in Ormond Beach, Florida. It's one of our signature east central Florida communities in a location that's ranked as one of the South's top places to retire.
Who says so? None other than Southern Living.
The magazine's 2019 list of the South's best retirement towns spotlighted 28 cities across the region. Ormond Beach is No. 22.
We're all different, of course, and would choose based on our interests, family ties and geographic preferences. But if you're Florida-bound or thinking strongly of heading this way, Plantation Bay and its hometown of Ormond Beach are great choices.
Here's why this retirement location is worth recognizing.
Why Ormond Beach
How did this classic Florida beach town catch Southern Living's editorial eye?
It has history, gorgeous Atlantic Ocean beaches, a charming, historic downtown that bustles with shops, restaurants and services, and an involved community that offers plenty of cultural and recreational opportunities. Festivals and special events abound year-round.
Recreational options are plentiful given Ormond Beach's perch alongside the Atlantic and its Intracoastal Waterway. Fishing, boating and personal watercraft are popular activities, especially for active retirees. Municipal and state parks expand those recreational choices.
And Ormond Beach's history is right in front of you. The town served as a winter getaway for Gilded Age millionaires at the turn of the 20th century. John D. Rockefeller's house, The Casements, is Ormond Beach's Cultural Center. Much earlier, the area was home to late 18th-and-early-19th-century sugar cane plantations.
Modern-day Ormond Beach also is part of the greater Daytona Beach area — only a few miles north of the "World's Most Famous Beach"— and close enough for residents to enjoy attractions such as Daytona International Speedway.
It's equally convenient to all the major destinations on Florida's northeast and central coasts, including historic St. Augustine to the north.
Why Plantation Bay
If Ormond Beach sounds like a great retirement choice, we promise Plantation Bay will be too.
The 3,600-acre gated community features 45 holes of golf, a variety of floor plans that range from estate home to townhome, and a convenient location just west of Interstate 95.
Did we say beach? Plantation Bay residents are 10 minutes away, max!
But if you'd rather play in your own backyard, get ready for tennis, pickleball, basketball, epic swimming pools, a fitness center, full-service spa, two golf clubhouses, pocket parks and fitness trails. (More about Plantation Bay's amenities here.)
Ready for your Ormond Beach lifestyle? Talk to us here.