Plantation Bay Golf & Country Club has notched another industry award. It's one of nine master-planned communities in the "Best Golf Communities" category of ideal-LIVING magazine's "Best of the Best 2020 Community Awards."
Hooray!
The annual "Best of the Best" compilation is featured in ideal-LIVING's summer issue.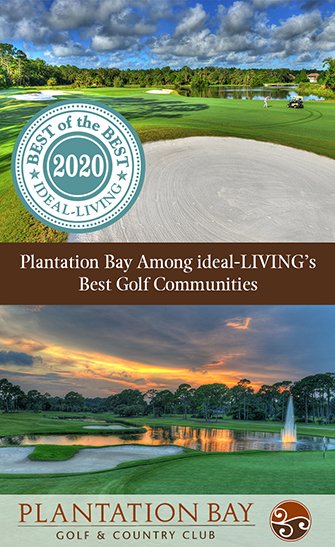 It spotlights master-planned communities in the U.S. and internationally, and it targets families, active adults, retirees and more who are ready to find their dream or vacation home.
East central Florida home seekers should look no further than Plantation Bay. Especially if you're also a golf enthusiast! This master-planned community in Ormond Beach boasts 45 holes of golf and two clubhouses, plus other amenities that might require a schedule in order to sample everything.
You won't find a better east central Florida location, or more choices of new custom Florida homes.
But yes, we know sheer statistics didn't earn Plantation Bay this latest honor. Keep reading for more on why ideal-LIVING singled it out.
First, the premise
ideal-LIVING focuses on the master-planned community lifestyle. It covers many different geographical regions and wish-lists of home buyers interested in that lifestyle. Plantation Bay is a perennial top choice for buyers seeking that lifestyle in east central Florida.
The Best Golf Communities category is one of 13 featured in ideal-LIVING's "Best of the Best 2020 Community Awards." Plantation Bay is located only 10 minutes from gorgeous Atlantic beaches, but golfers seeking top-notch courses in their own backyards are a major draw, particularly those looking to play year-round in a balmy climate.
And 45 holes and two clubhouses aren't the only golfing wish. A full instructional center — take a virtual tour here — is outfitted with the latest technology to improve swings and techniques. Practice ranges include a full-length driving range and an "aqua" range that hones your driving ability over water features.
The Club de Bonmont and Prestwick courses, plus the nine-hole Westlake course, host youth camps, men's and women's league play, and many tournaments throughout the year.
More than one of the best golf communities
Come to Plantation Bay for the golf — and enjoy everything else while you're at it.
The perks begin with a secure gated entrance and extend to preserve land bounding much of this 3,600-acre community. Nearby access to Interstate 95 makes exploring east central Florida a breeze. Head east a few minutes and miles to enjoy Ormond Beach, Plantation Bay's hometown. The greater Daytona Beach area, with all its attractions, lies only minutes south.
Where to begin with Plantation Bay's resident amenities? If you tire of golf (only until the next day's round), tackle the tennis, pickleball and basketball courts. Lounge at the wellness complex, which offers a fitness center, full-service spa and resort-style swimming pools.
Enjoy the social and dining scenes at the Club de Bonmont and Prestwick clubhouses. Walk, run or cycle the miles of community trails.
Whew, we're exhausted!
Ready for your Plantation Bay lifestyle? Talk to us here.