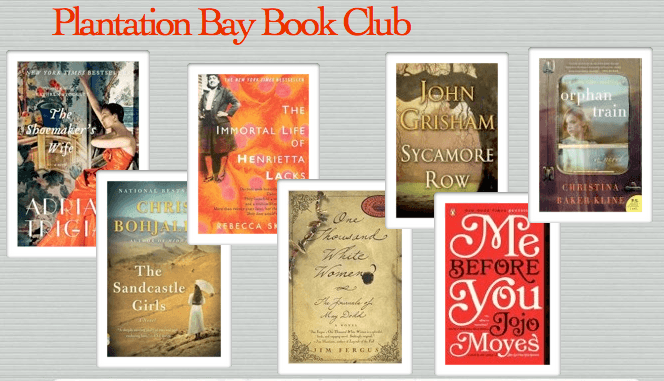 One of the best ways to spend a warm summer afternoon is reading a good book. Since there is no shortage of spectacular summer afternoons here at Plantation Bay, residents have plenty of opportunities to relax and catch up on their reading lists. If you are looking for recommendations for books or would like to discuss what you are reading, the Plantation Bay Book Club provides a great forum for both!
About the Plantation Bay Book Club
The Plantation Bay Book Club allows anyone who enjoys reading to get together for a discussion on a particular book each month. The club seeks to promote reading among our community members, to push members to read books that are outside of their normal comfort zones in terms of genres, and to share ideas discussed in different books in a safe and friendly environment.
The Plantation Bay Book Club is open to all residents of Plantation Bay, and new members are always welcome. The club meets on the second Tuesday of each month from 2:30 pm to 4:30 pm in the Prestwick Clubhouse Conference Room.
Many of the club's members elect to get together for lunch before these meetings. They meet at 1:00 pm at the Prestwick Clubhouse.
Summer Reading List
The Plantation Bay Book Club's website contains links to discussion questions and author backgrounds, as well as a link to purchase each book on Amazon prior to each month's meeting. The website also lists which member will be moderating the discussion each month.
Whether or not you are able to attend the club's monthly meetings, their website still serves as an excellent recommended reading resource. There are archives of the books that the club has discussed dating all the way back to 2008. Here are the books that the club has read and discussed so far in 2014:
• The Shoemaker's Wife by Adriana Trigiani
• The Sandcastle Girls by Chris Bohjalian
• The Immortal Life of Henrietta Lacksi by Marilynn Sternberg
• One Thousand White Women by Jim Fergus
• Sycamore Row by John Grisham
If you are interested in attending the club's June meeting, it will be held on Tuesday, June 12 in the Prestwick Conference room. Members will be discussing the book Me Before You by Jojo Moyes. This bestselling love story confronts the reader with how to handle a relationship where making the person you love happy actually breaks your heart.
If you would rather get a jump start on July's reading, the meeting on Tuesday, July 10 will be discussing The Orphan Train by Christina Baker Kline. This novel follows the evolution of the relationship between a growing foster child and an elderly Irish immigrant who learn that they have far more in common than either would have thought.
Whether you are looking for a place to interact socially with fellow bookworms or just looking for a fresh summer reading list, the Plantation Bay Book Club can be a great resource for you either way. Grab one of their upcoming books and see if you feel compelled to discuss it at the next meeting!