Thinking of buying or building a new custom Florida home in Plantation Bay Golf & Country Club? That's good news, but the best news might be that residency at this master-planned community in Ormond Beach doesn't have to be a one-time proposition. There is a Plantation Bay home for every lifestyle, so you won't want to move out of the community if and when your season of life changes.
Plantation Bay is so large, versatile and jam-packed with amenities that when your circumstances or lifestyle changes down the road, you don't have to feel stuck in a home that doesn't fit the new you.
If you've researched or visited Plantation Bay, you know the community continually grows with new neighborhoods and extensions of existing ones. That won't end any time soon, and many current Plantation Bay residents have taken advantage of that scenario, building or buying more than one new Plantation Bay home as their lives evolved. But don't just take our word for it, check out the testimonial video below for social proof.
You can't do that in a community without longevity and value, and we at ICI Homes invite you to consider it even as you plan your first Plantation Bay home.
Read on for more on moving around — but not out of — Plantation Bay.
Size matters
The bigger the community, the more home-building options for prospective customers.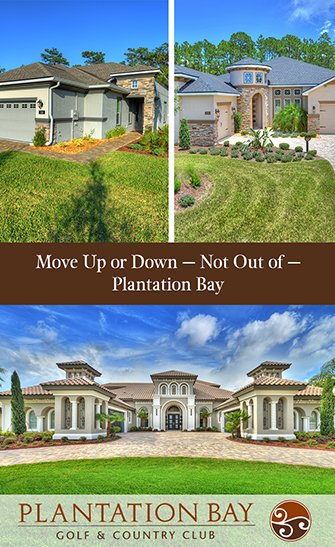 And, Plantation Bay is big, incorporating more than 3,600 acres. A significant amount is conservation land that buttresses and protects current and future neighborhoods.
This breadth and depth permits 45 holes of golf, two clubhouses and a wellness center that anchors two resort-style swimming pools, a fitness center, a full-service spa, and basketball, tennis and pickleball courts.
Miles of sidewalks and paths course through the community, accommodating runners, cyclists and walkers. Plantation Bay's lakes, ponds and fountains are sprinkled throughout, as cherished landmarks and features.
Such enormity allows new homes of all varieties. Customers can opt for a smaller or larger family home, a maintenance-free townhome for easy living and seasonal residency, or build their dream home on an estate-sized lot.
Plantation Bay also is an established community. It's been one of ICI Homes' signature developments since 1990, which ensures continued high standards and staying power for decades to come.
A new home in familiar territory
With all the above pluses in place, don't think you have to move elsewhere if your needs change.
You can't top Plantation Bay's location between the booming Daytona Beach area — it includes Plantation Bay's quaint hometown of Ormond Beach — and Palm Coast and St. Augustine to the north. It's located close to Interstate 95, Florida's north-south artery, and lies only 10 minutes west of uncrowded Atlantic beaches.
Why give all that up!
Keep your friends, favorite amenities and great location by opting for a new Plantation Bay home. Need to care for aging family members? Explore a multi-generation home. Done with yard work and cleaning out gutters? Downsize to that spiffy townhome where all you have to do is occasionally wield a vacuum cleaner, indoors.
Plan your homebuilding future today and tomorrow!
Ready for your Plantation Bay lifestyle? Talk to ICI Homes here.