A new year usually means new goals, especially as we transition from a challenging 2020 into a hopefully brighter 2021. This looks different for all of us, but buying or building a new custom Florida home can be a great first step to a healthier new year.
We at ICI Homes recommend Plantation Bay Golf & Country Club, our signature master-planned community in Ormond Beach.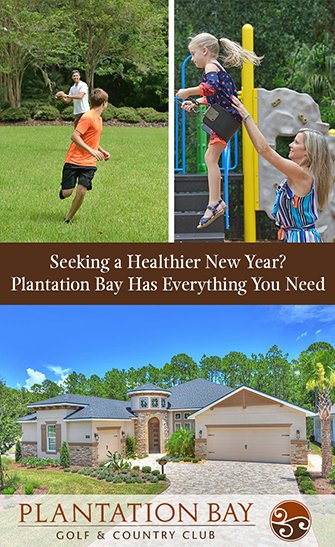 Its combination of size, location, and variety of floor plans and pricing is unique in east central Florida.
So are its amenities. We're talking 45 holes of golf, two clubhouses with social and dining scenes, a wellness center, pickelball, tennis and basketball courts, and a golf instruction center.
Taken together, all these factors CAN help Plantation Bay residents achieve a healthier new year.
Here's why.
First, the house
Buying or building a new custom Florida home might not be an obvious first step to a healthier new year, but sometimes a change of address is the jump-start you need. Not to mention, when you purchase a new ICI home, you are making an investment in healthier living (and efficiency) with EQ Factor. Owning an ICI EQ FACTOR home provides better air quality and a healthier living environment for you and your family. As an added bonus, it dramatically lowers your monthly energy costs and reducing your carbon footprint.
That sounds like the kind of goals we want to bring in to the new year! And, according to many goal-setting experts, new resolutions force us out of our comfort zones and on the road to accomplishment.
If you've been putting off a move to Florida, or are a Florida resident seeking to relocate, a new home in the booming, beautiful and convenient east central Florida area can be a wise move for that kind of positive inspiration.
Plantation Bay's 3,600 acres (with plenty to be maintained as preserve) provides space for this established community to continue grow. New neighborhoods and phases of existing ones open on the regular, with estate-sized homes, single-family homes, retirement or dream homes, and nifty low-maintenance townhomes all on the menu.
Plus, memberships aren't required for Plantation Bay residency. You'll need one to enjoy the clubhouse social, sports and fitness amenities, but there are options to suit everyone.
Second, the social and community benefits
Although get-togethers and events continue to look different as we navigate a pandemic, Plantation Bay's neighborliness welcomes new residents. Book clubs, bridge clubs and classes and crafts are among the many activities available to residents seeking community.
The social and dining scenes at the Club de Bonmont and Prestwick Clubhouses haven't gone anywhere. Neither has socially-distanced camaraderie on the golf courses and sports courts. They simply look a bit different.
Plantation Bay's size also makes it possible for walkers, runners and cyclists to enjoy safe, healthy outdoor workouts,
plus the opportunity to wave to friends and neighbors.
Third, the Wellness Center
Here's where Plantation Bay residents can really tackle their healthy new year's resolution.
The Wellness Center anchors the swimming pool pavilion and cabana, a full-service spa and a fitness center. A new physical-therapy offering compliments massage, personal training, nail and esthetician services, along with yoga sessions and other options.
Tackle those weigh-training and cardiovascular goals! Dismiss stress! Plantation Bay's options can help you achieve a healthier new year.
Ready for your Plantation Bay lifestyle? Talk to ICI Homes here.