If you've lived in this wonderful master-planned community for a while, you likely have a go-to restaurant for a nice evening of waterfront dining.
Perhaps you don't. You may not if you've just moved into your new custom Florida home here. But, no worry either way. We at ICI Homes are happy to help.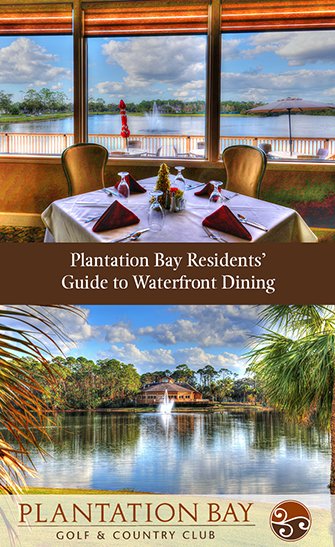 First, let's be clear we don't mean a fast-food lunch at a roadside picnic table — although there's nothing wrong with that occasional strategy if you work in an office cube.
And, while we know you enjoy the active, delicious dining at the Club de Bonmont and Prestwick clubhouses — and their lakeside overlooks — that's not what we mean either.
We're talking about a restaurant where you enjoy your repast with a saltwater or freshwater view. The site is the thing, and Florida residents are lucky to have our choices thanks to innumerable rivers, springs and harbors, two Intracoastal Waterways, and, of course, the Atlantic Ocean, Gulf of Mexico and Caribbean Sea.
Here in east central Florida, it's usually the Atlantic Intracoastal Waterway and ocean that provide the view. Whether large or small, casual or elegant, there are many waterfront dining spots with easy driving distance of Plantation Bay.
Here's a sampler to get you started.
Ormond Beach and Ormond by the Sea
Ormond Beach is Plantation Bay's hometown. A few miles north on A1A, Florida's Atlantic coastal Highway, sits neighboring Ormond by the Sea.
Dining seaside in both locales often means you can spend a day at their lovely, uncrowded beaches, (safely) cross A1A, and order a lunch or snack to take back to your beach chairs.
But many of these seaside restaurants also offer leisurely sit-down dining. From south to north:
Alfie's Restaurant at 1666 Ocean Shore Boulevard, sits across A1A from the beach. It offers daily specials, traditional fish fry dinners, a mega-ice cream sundae, breakfast, lunch and dinner.
Betty's A1A Cafe at 1900 Ocean Shore Boulevard, sits across A1A from the beach. It spotlights New England-style seafood and is open for lunch and dinner.
Lagerheads Bar and Grill at 2986 Ocean Shore Boulevard, also sits across A1A from the beach. You'll find piled-high sandwiches, seafood, live music and pet-friendly areas.
Flagler Beach
Plantation Bay's other hometown is the old-Florida beach town of Flagler Beach to the north. Two of many waterfront dining spots you might enjoy here:
The Funky Pelican at 215 Highway A1A, is located oceanside, on the historic Flagler Beach Pier. It offers breakfast, lunch and dinner. Choose between indoor and outdoor seating. A sunrise over the Atlantic, accompanied by fresh coffee and food, sounds intriguing.
The Golden Lion Cafe at 501 North Ocean Shore Boulevard, is a Flagler Beach icon. It's across A1A from the beach, but you can see rolling waves from their two-level decks. They offer live music, special events and daily specials.
Ready for your Plantation Bay lifestyle? Talk to us here.