If you're a new or soon-to-be Plantation Bay Golf & Country Club resident, you already know you made a good choice by buying or building a new custom Florida home here.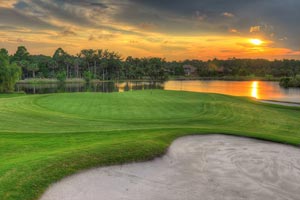 As one of ICI Homes' signature properties in east central Florida, Plantation Bay boasts the region's top amenities (it's not even close), plus a superb location that's convenient to destinations throughout the Atlantic coast and central Florida.
Plantation Bay's 3,600 acres means there's plenty of room for future residents. Less than half of that has been developed, with hundreds of acres set aside for conservation, community green spaces, and pocket parks.
And, there's much to anticipate. New residential phases have opened and are actively selling. A state-of-the-art clubhouse opens soon, with new enhancements coming to existing sports facilities at Plantation Bay's Wellness Center.
Those are some of the most recent reasons it pays to live in Plantation Bay. But here's how residents can reap another perk of living where they do — by recommending their community and earning rewards.
Plantation Bay resident rewards defined
Earning rewards simply by living somewhere? You sure can at Plantation Bay. It's also a great way to recruit new neighbors!
More than that, if you love living at Plantation Bay and know friends, family, or work buddies who are interested in a new custom home in east central Florida, inviting them to check out Plantation Bay can be both a helpful recommendation and a pat on the back.
You could earn a complimentary membership or a credit to an existing one. That's a win-win anytime.
How it works
Super-easy — simply recommend Plantation Bay to someone you know who is interested in a new home in a great location and master-planned community.
Do this by putting them in touch with ICI Homes' sales associates. Ask the folks you're referring to tell the sales associates that you sent them their way.
Even better, there's more than one way to accomplish this. Your referral folks can mention this when they visit Plantation Bay in person. You can drop by the community's sales center and give the ICI Homes' associates their names to begin the reach-out process.
Or, your referral folks can start the process with our helpful online sales team, and mention that you referred them. Our online team will put them in touch with the on-site Plantation Bay sales professionals.
All the recommendation-worthy things
Start with Plantation Bay's 45 holes of golf. Then, the new Club de Bonmont Clubhouse will feature state-of-the-art everything.
Also, consider a golf instruction center. Add the Prestwick Clubhouse with its social and dining scenes, a Wellness Center with a full-service spa, a fitness center, two resort-style swimming pools, an outdoor cabana, and tennis, pickleball, and basketball courts. There also are miles of fitness paths and sidewalks.
Pick your favorite amenity and start recommending it today!
Ready for your Plantation Bay lifestyle? Talk to ICI Homes here.